Thirty new graduates received their diplomas at the end of their studies at BME's English-language bachelor's and master's programmes.
'You had to work really hard in the past few years: doing your home assignments, revising for in-term and end-of-term exams, successfully completing your lab practices, then finally sitting the final examinations. Now you can say that it was all worthwhile', said Vice-Rector for Education Károly Veszprémi when greeting the graduates of the English-language programmes. He added that the 'knowledge and skills acquired at BME will provide a firm basis to build on in the future. You are to receive your valuable diplomas: this is what makes this day very important and special for you and your families'.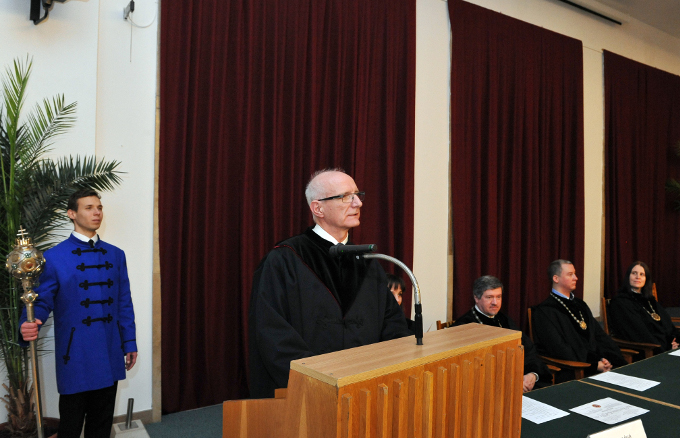 Members of the Academic Procession arriving to the tune of Gaudeamus Igitur: Károly Veszprémi Vice-Rector for Education, Tamás Lovas Vice-Dean (Faculty of Civil Engineering), Ádám Kovács Vice-Dean (Faculty of Mechanical Engineering), Gábor Nemes Vice-Dean (Faculty of Architecture), Zoltán Hell Associate Professor (Faculty of Chemical Technology and Biotechnology), Eszter Udvary Gerhát Associate Professor (Faculty of Electrical Engineering and Informatics), Ádám Török Vice-Dean (Faculty of Transportation Engineering and Vehicle Engineering) István Prok Vice-Dean (Faculty of Natural Sciences) and Emma Logó Vice-Dean for Education (Faculty of Economics and Social Sciences).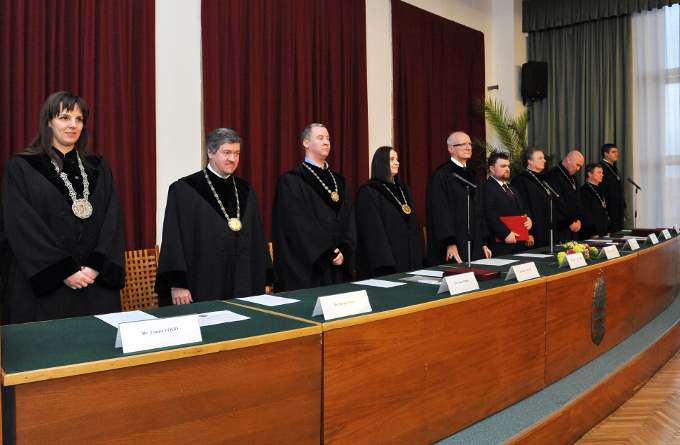 The ceremony was also attended by members of the body of coordinators, responsible for the French-Hungarian bilingual (co-tutelle) academic programme at BME's Faculty of Mechanical Engineering. The French delegation included Sébastien Reymond, Attaché for Scientific and University Cooperation, Bob Kaba Loemba, Office for Scholarships (Campus France), Andela Ceau-Dura, Head of International Relations of the Arts et Métiers ParisTech, Cluny Campus, Corinne Nouveau, Research and Cooperation Coordinator, and Professor Michel Bon, coordinator of the mechanical engineering dual programme.
Budapest University of Technology and Economics was represented at the event by Professor and rector adviser Krisztina László, Vice-Chancellor for Student Services Virág Mészáros and assistant professor Margit Bende (Faculty of Mechanical Engineering), the co-tutelle programme's coordinator at the faculty.
The master of the award ceremony was György Horváth, assistant lecturer at the Department of Environmental Economics at BME's Faculty of Economics and Social Sciences.
'When I was looking for a renowned university on the internet I considered several key aspects. One of them was the history of the university', said MSc graduate in mechanical engineering, Alireza Sharifan, addressing the audience on behalf of the graduates. 'Budapest University of Technology and Economics is one of the oldest higher education institutions in the world. These universities modernise and expand their facilities year by year, and adjust the standard of their academic programmes to scientific developments. BME was established in 1782, so its academic expertise gained over 200 years, as well as its potential cannot be disregarded', the new graduate explained as the reasons behind his choice of university, adding that overcoming the challenges it entailed was well worth it. The graduate thanked his parents for their support and his professors for their help and patience.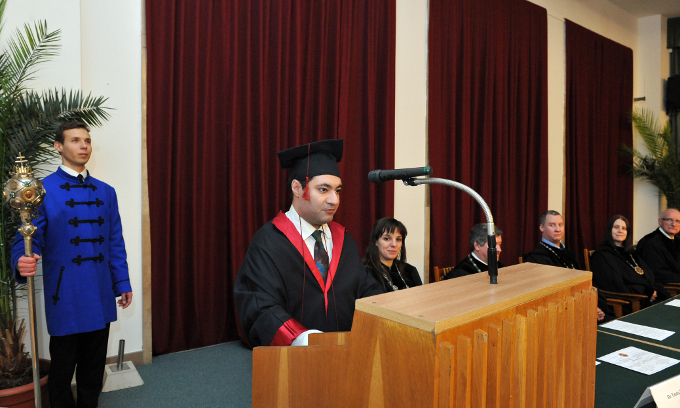 The following students received an honourable mention for their academic excellence: Adrien Njamfa and Meshkat Alsadat Shayan (Faculty of Mechanical Engineering), Rafail Costea (Faculty of Architecture), Natasha Kaleebu Lunkuse and Endrei Dominic Matthew (Faculty of Electrical Engineering and Informatics). The "Green Diploma" for environmental awareness was awarded to Alice Cayre (Faculty of Mechanical Engineering).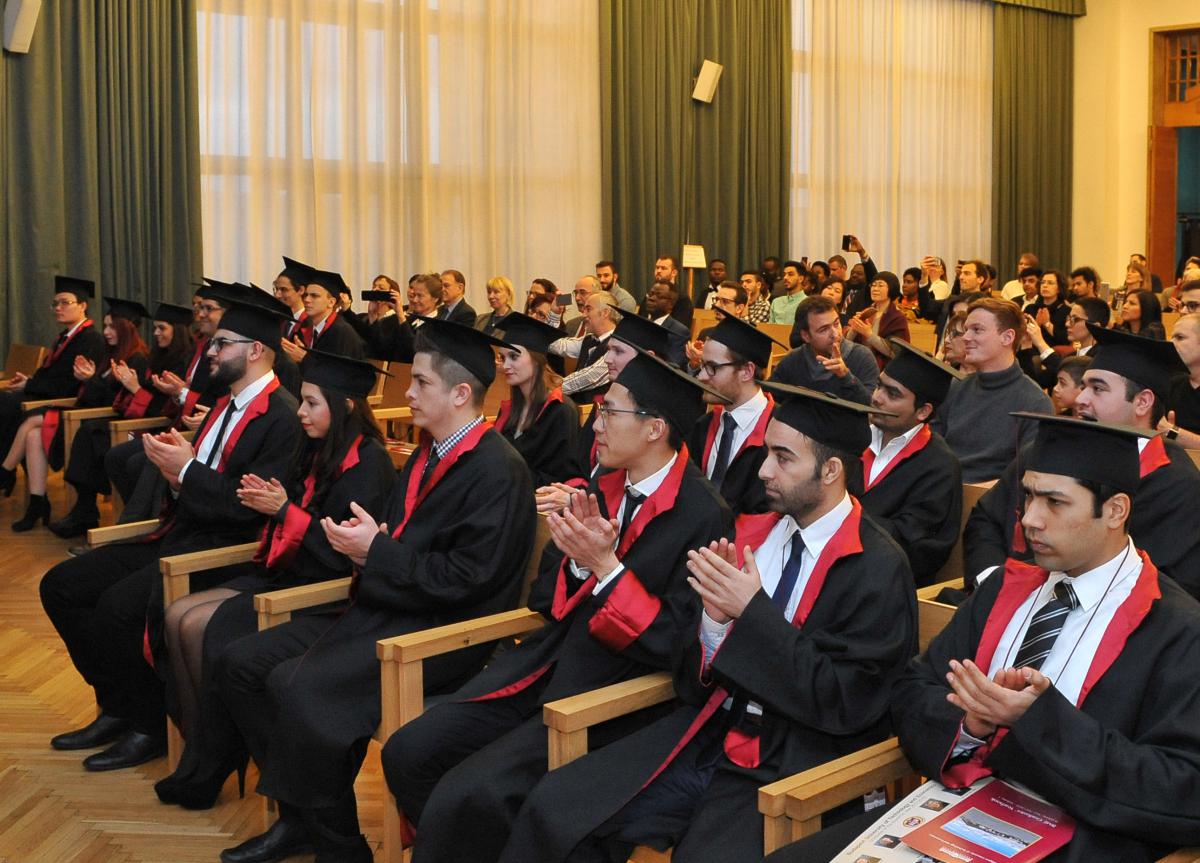 'Today we have reached the destination of our travel which lasted 1613 days: we are the graduate class of 2018', Natasha Kaleebu Lunkuse, BSc graduate in electrical engineering told the audience in her speech, representing students who received an honourable mention. 'The graduation ceremony is one of those moments in life, when we are torn between the happy memories and the excitement we feel about our future. We look back on the best moments of the past few years, the happy times of all the wonderful seasons; the beauty of snow, the vivid 'voices' of spring, the wonders of Hungary, especially Budapest, the people and their fascinating culture, the famous architects who also studied here and the university campus. Or should we focus on the next period of our lives instead? We have been eagerly awaiting this day for four years and now we want to slow down time and enjoy these last moments. Once we throw our caps in the air, our lives will change forever', the BME graduate said in summing up her thoughts.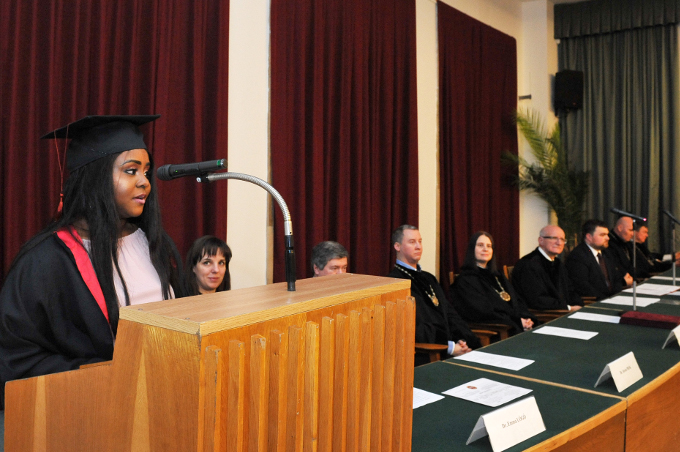 'Right now your future is in your hands', said the master of the award ceremony as a final remark. 'You joined us so that we can create a part of your future together. We welcomed you with an open heart and an open mind, committed to give you all the help and expertise we can. Now you are ready to leave us, so that you can create a better world,' stressed György Horváth.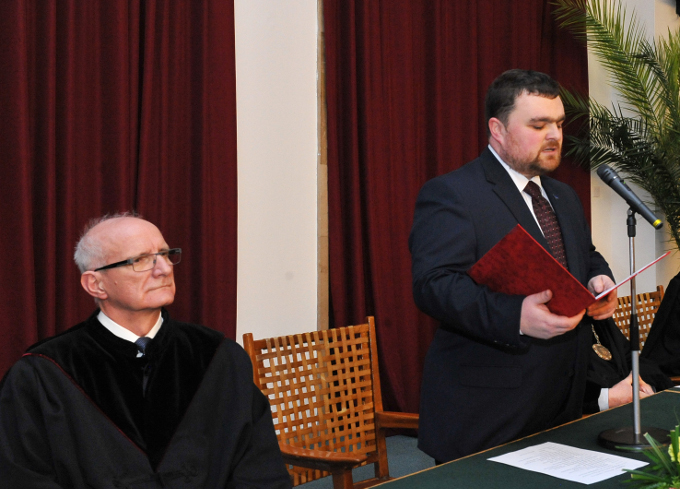 BME's English-language programmes are attended by students from around 50 countries. This February 30 students graduated at BME; six from the most well-represented country, France, but we also have graduates from Iran, Ecuador, Lebanon, India, Tunisia, Uganda, Senegal, South-Korea, Russia, Vietnam, Australia, Turkey, Cyprus and Israel. The majority of them received their diplomas from the Faculty of Mechanical Engineering (13 students) and the Faculty of Electrical Engineering and Informatics (6 students). We also have four chemical engineering, four civil engineering and three architecture graduates.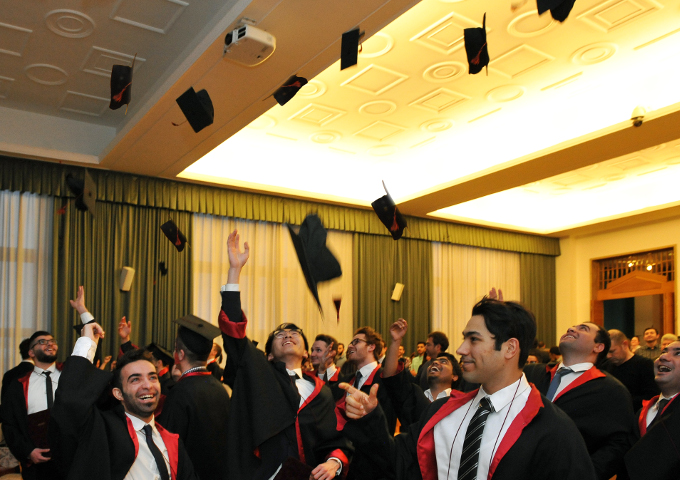 Fee-paying students complete the same English-language courses as students in the Erasmus and Stipendium Hungaricum scholarship programmes. Student numbers of the latter show a significant growth: the first four Stipendium Hungaricum students arrived in 2013 and the number of students admitted since is close to 700. Most of them arrive from the same countries as the fee-paying students and the majority study in longer (BSc and PhD) programmes. Almost one-third of those graduating this February have been admitted to BME through the Stipendium Hungaricum scholarship programme.
HA - GI
Photo: Janos Philip