Steel wedding chapel designed by BME educated architect couple features in international design magazine.
"We wanted to create a unique and special memorial about the most important and beautiful moment in our lives that reflects our personalities and symbolises our profession as architects while being highly significant for both of us. We couldn't have imagined a more exciting first project together," said Bálint Gulyás and Orsolya Mészáros, BME educated architects about their jointly designed and built stylish wedding chapel, which even caught the attention of the editors of Dezeen, a prominent international design magazine. (Editor note: Dezeen is a London-based international online architecture, interiors and design magazine launched in 2006 with 2 million monthly visits. In 2012, the Independent named it the best architecture blog in the world and The Times included it in its list of 50 top websites you can't live without in 2013.)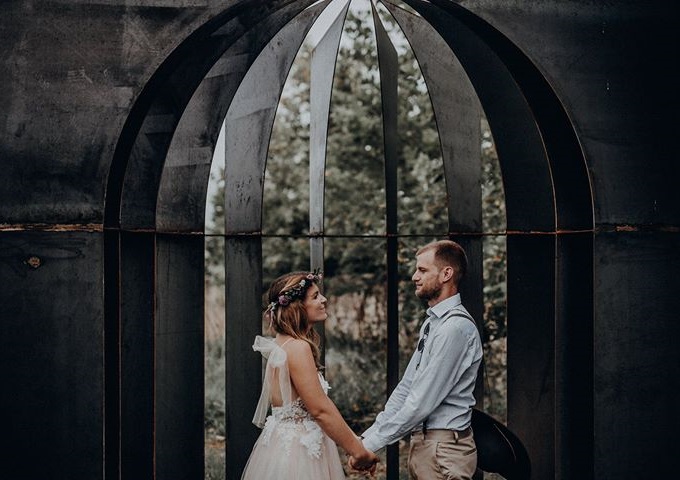 The outdoor structure made from steel profiles is located in the abandoned courtyard of an old mill in Csákberény at the foot of the Vértes mountain, which inspired the young couple and served as the venue of their nuptials. The shape of the chapel is a modern manifestation of the semi-circle apse of Romanesque churches. The structure is made of uncoated steel expected to corrode in one or two years but the young architects are not concerned: they would like to maintain this rusty appearance for future generations and offered their design for future weddings.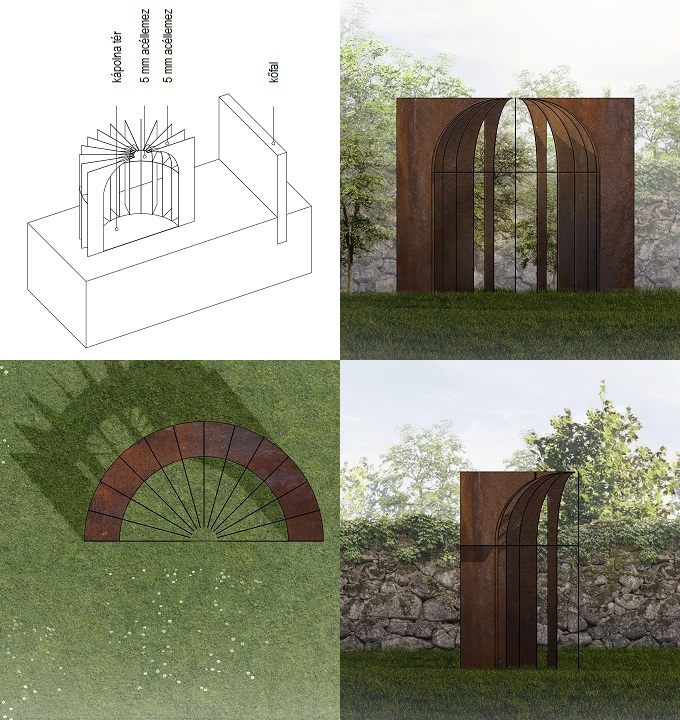 They were stimulated not only by their goal but also the way their dream came true. They were not only interested in creating something but also in the way they made it real. They drew up the plans together and were joined by many fellow students and friends from BME in the construction phase working every weekend, in the way they used to in architect camps, up until the last moments before the wedding. They are happy that they got a profession, a spouse, a friend and family thanks to their alma mater. They feel that their university citizenship added some impalpable "plus" to their personalities, which has become a part of them since then.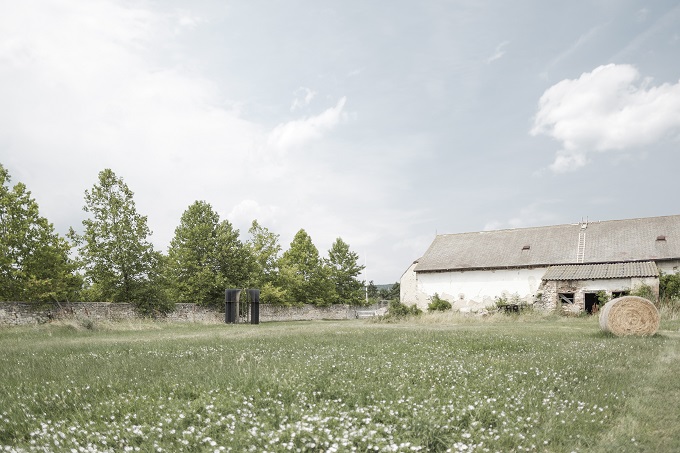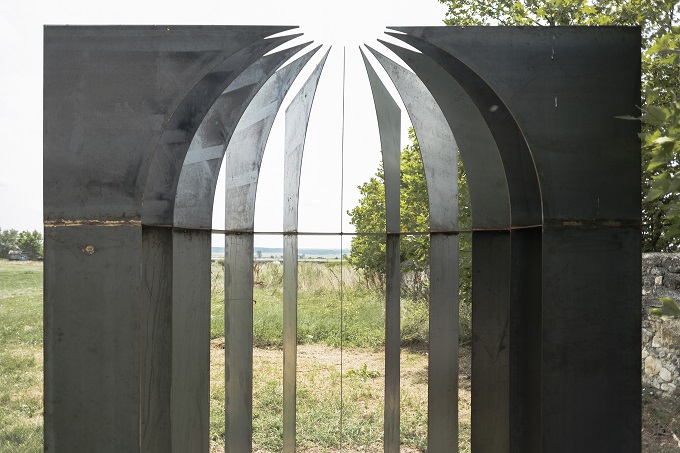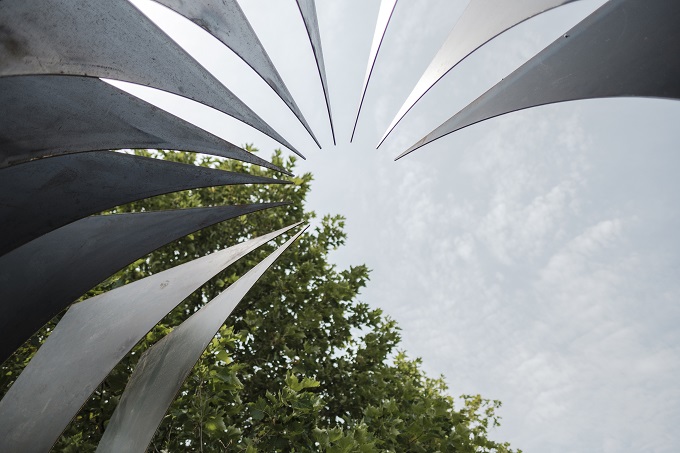 The newly-weds have been fascinated by architecture and the freedom of creation for a long time. Orsolya was a creative student with a flair for science subjects; originally she wanted to be a cartoon maker but her parents convinced her to apply to BME as well. "At my first drawing aptitude test, I was captivated by the traditional campus, the atmosphere and the abundance of architectural assets. At that point, it was obvious where I wanted to study," the female member of the couple remembered while Bálint had wanted to design buildings from a very young age. They were both attracted by BME's prestige and the continuity of the high quality one-tier architecture study programme. After being admitted to the university, they first met at the freshman camp, then went to the same study group and have been together since they finished their studies. As students, they jointly received an Erasmus grant to Barcelona, the city believed by many to be the centre of architecture, which is literally a Paradise for any future designer. Later, they successfully applied for a Spanish internship and then received a grant in Spain as fresh graduates returning to Hungary to start their careers after staying abroad for three semesters and gathering professional experience. They feel fortunate that BME has such an extensive professional network and can offer its students a wide variety of support and grants. Apart from improving their foreign language skills, they gained a large amount of professional experience while also extending their knowledge and becoming familiar with new cultures, returning with a great deal of inspiration, which ultimately determines the life of any creative designer. Early on in their careers, they worked as intern architects for a Spanish design office, which won the Pritzker Architecture Prize, the most prestigious award in architecture, while the pair was staying there.
"BME provided us with the basics of and a comprehensive range of theoretical knowledge in architecture, which we will benefit from in our future projects." The young architects wanted to transfer the knowledge they had learned at the university into practice, which they did when they received a scholarship: they worked in small groups processing architecture concept designs and becoming familiar with the tricks of planning.
These new experiences also shaped the couple's professional preferences. Orsolya became fascinated by 3D planning: "I wanted to work in a field which, for me, is the most creative marginal area of architecture." She is currently working for a company that visualises the architectural ideas of clients with the help of 3D graphic programmes. Her works are mostly used for applications, professional presentations and for the sale of residential and other buildings. With the help of his consultant at BME, Bálint was hired by a design firm and feels fortunate to be able to participate in a wide variety of projects and get an insight into the design of various buildings gaining extensive competence and experience in a range of special fields. The young couple greatly benefits from its successes at the university: both of them attended the TDK (Scientific Students' Associations) conference, Bálint won third place with his family home design project in the national competition while Orsolya was awarded first place with her photo portfolio depicting life in the Havanna housing estate at the university competition but she was unable to participate in the national final because of her foreign scholarship.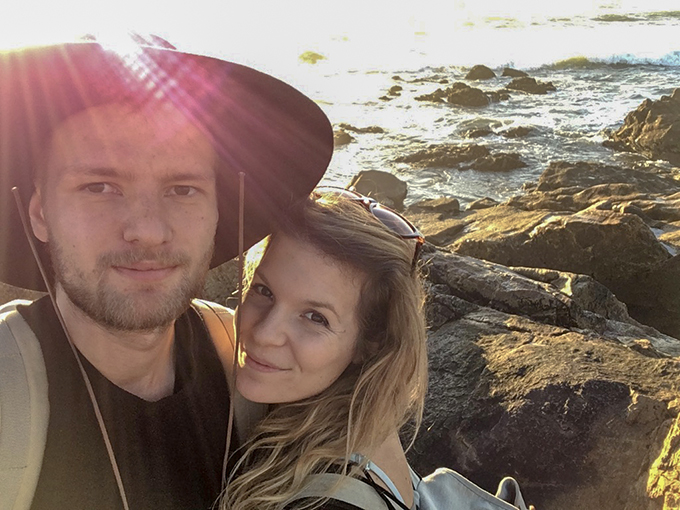 Having returned from Spain, the pair decided to set up their own design studio to find out if they could successfully work together in a team as architects. At present they are working on smaller projects but hope to be able to build a full time business in the future. They named their company MÁS using the initials of their surnames, which means "different" in Hungarian and "more" in Spanish. Bálint and Orsolya are still busy building their own lives and careers. They are currently remodelling their home where they again used steel to make their own furniture.
TZS-GI
Photo: Bálint Gulyás and Orsolya Mészáros