In this page scientometry-related materials and resources of the University are presented: bibliometric data of publications of the current scientific staff, and citations to these.
The numbers are clickable and show the items behind them. The tables can be normalized by the number of staff of a faculty/department (pulldown menu: Number of records → Averages of numbers of records). Several publications are available in full-text form.
Data are given for currently employed educational staff (1327), researchers (193), professors emeriti (94), PhD students (673) and PhD candidates on scholarship (26).
Scientific publications of BME between 2009-2013: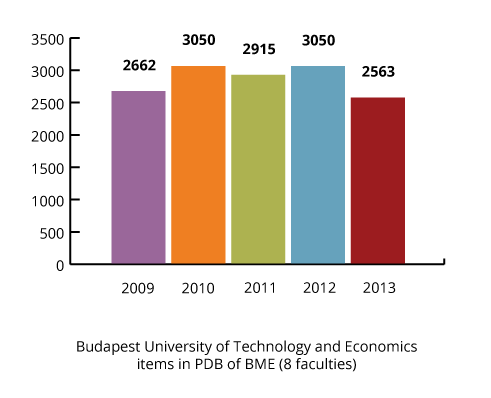 Scientific publications of BME by year (+citations in the subsequent 2 years):
2009  ·  2010  ·  2011  ·  2012  ·  2013
Citations to publications of BME: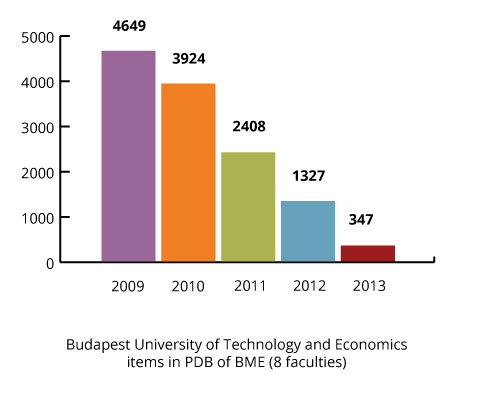 Trends of citations:
Citations in 2013 to publications of BME, cited works published · in 2009 · in 2010 · in 2011 · in 2012 · in 2013
Citations to the publications of the educational and research staff of BME:
pubs in 2008-2009, citations to these in 2010
pubs in 2009-2010, citations to these in 2011
pubs in 2010-2011, citations to these in 2012
pubs in 2011-2012, citations to these in 2013
pubs in 2012-2013, citations to these in 2013-2014
Scientometric data of the faculties:
Faculty of Civil Engineering (ÉMK)
Faculty of Mechanical Engineering (GPK)
Faculty of Architecture (ÉPK)
Faculty of Chemical Technology and Biotechnology (VBK)
Faculty of Electrical Engineering and Informatics (VIK)
Faculty of Transportation Engineering and Vehicle Engineering (KJK)
Faculty of Natural Sciences (TTK)
Faculty of Economic and Social Sciences (GTK)