First-year international students welcomed at the opening ceremony of the new academic year at Budapest University of Technology and Economic
"Valuable diplomas require good teachers and good students", emphasised Vice-Rector for Education Károly Veszprémi in his opening speech, pointing out that BME provides excellent lecturers and professors, but that hard-working students are just as important. "You will be busy in the labs, writing tests and revising for exams: we hope that at the end of your studies you will think that all the hard work has been worthwhile".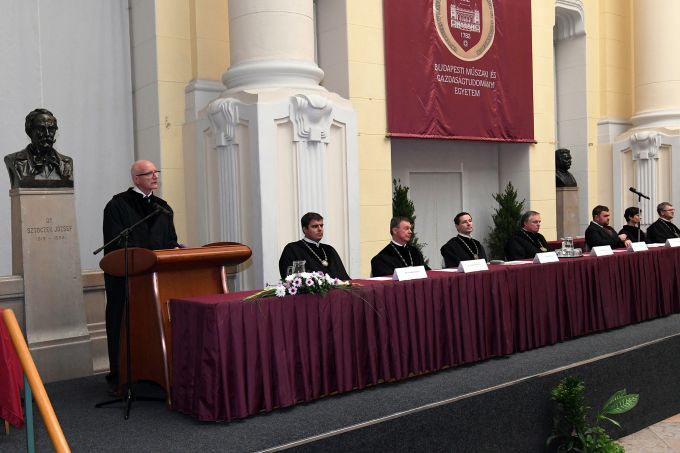 The Vice-Rector explained that new studies had always been immensely challenging: especially when young students go to university abroad, which can be hard for their families also. He added that BME's community of international students was very diverse, with undergraduates arriving from several continents, even from overseas. "By getting to know other cultures students will gain valuable experiences that go beyond the academic programmes", the professor said. (Editor's note: our recent interview with Károly Veszprémi is available at bme.hu)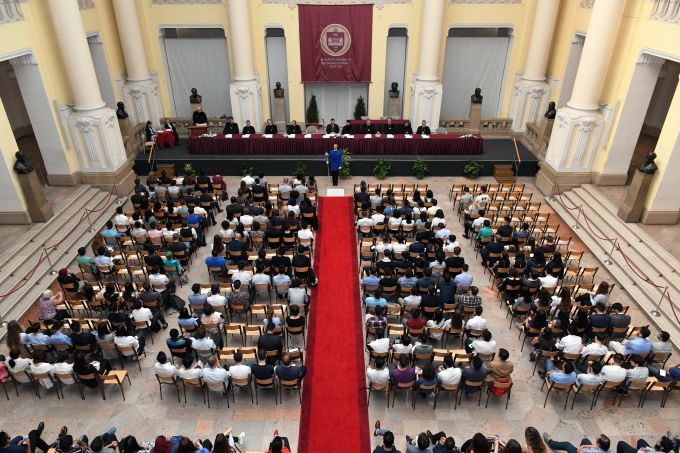 666 foreign students from around fifty countries have enrolled in the programmes of the 2018/2019 academic year at Budapest University of Technology and Economics, which is more than last year. Most of them arrived from China, but many came from Jordan, Brazil, Iran, Algeria, Azerbaijan, Turkey, Syria, Egypt, Pakistan, Tunisia and Mongolia. All of them applied online, the majority for bachelor training programmes, but close to 180 for MSc or PhD programmes.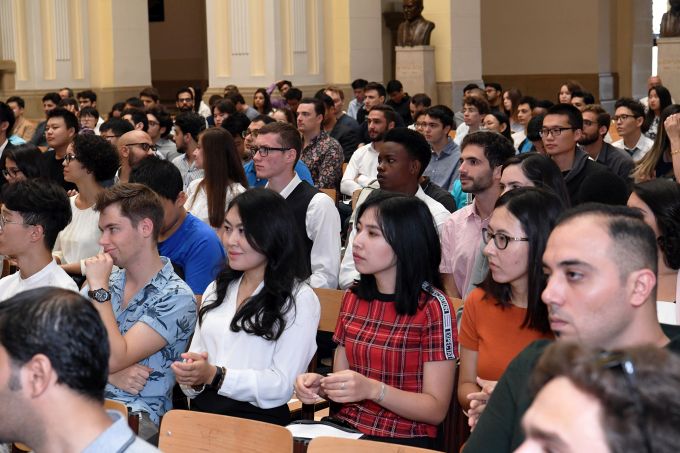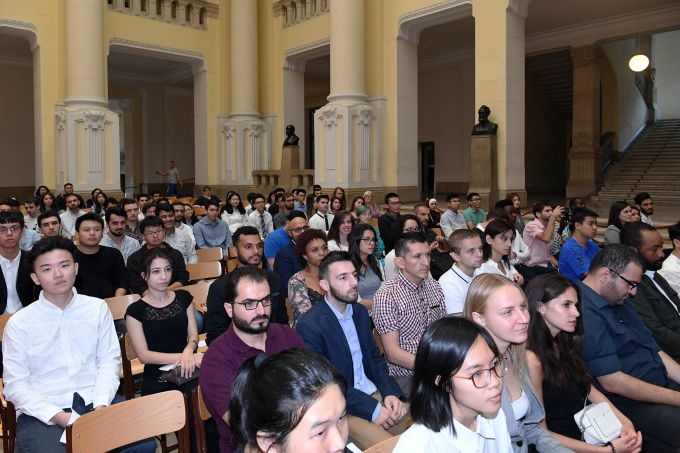 The presiding chair of the opening ceremony was György Ádám Horváth, Assistant Professor of the Department of Environmental Economics at BME's Faculty of Economics and Social Sciences, and members of the Academic Procession arriving to the tune of Gaudeamus Igitur included Tamás Lovas Vice-Dean (Faculty of Civil Engineering), Ádám Kovács Vice-Dean (Faculty of Mechanical Engineering), István Bartók Vice-Dean (Faculty of Architecture), Zoltán Hell Associate Professor (Faculty of Chemical Technology and Biotechnology), Virág Mészáros Vice-Chancellor, Károly Veszprémi Vice-Rector for Education (Faculty of Electrical Engineering and Informatics), József Bíró Vice-Dean (Faculty of Electrical Engineering and Informatics), Ádám Török Vice-Dean (Faculty of Transportation Engineering and Vehicle Engineering), István Prok Vice-Dean (Faculty of Natural Sciences) and Gyula Zilahy Vice-Dean (Faculty of Economics and Social Sciences).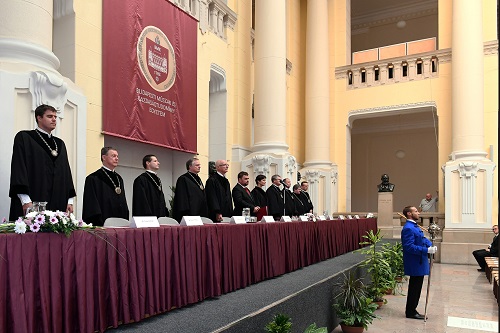 On behalf of the Students' Union (EHK) civil engineering student Rebeka Katona welcomed the new arrivals from abroad. Talking about the responsibilities and opportunities of university students, she encouraged them to study, but also actively participate in programmes organised at BME.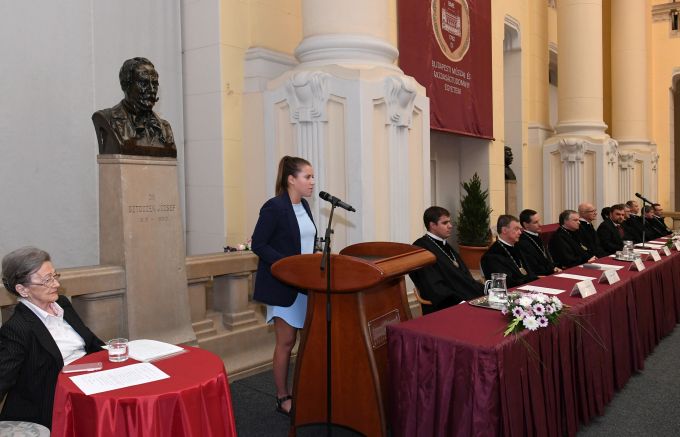 Speaking on behalf of the mentors who help international students settle in, Máté Igaz said that there were plenty of opportunities, such as sports and cultural events, which young students from abroad can benefit from to make their stay and studies here even more enjoyable and useful. He stressed: the mentors will do their best to help students to learn more about these programmes.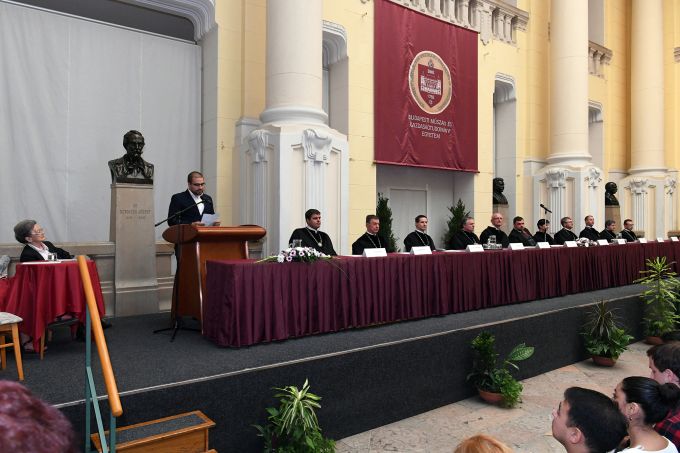 "The roots of education are bitter, but the fruit is sweet", said Brenda Hernandez, Mexican BSc student in electrical engineering, quoting Aristotle when addressing the participants on behalf of the senior students, adding that although the Greek philosopher never studied here, his message is clear: be the best you can, because it's worth it! She emphasised that "the best you can be will always change and evolve with you; BME is the place where you can make most of your potential".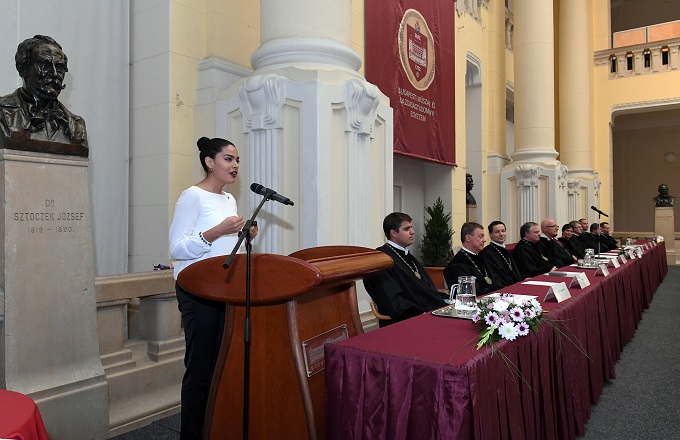 "The university prepares us for the next chapter in our lives, helping us to make our future easier and make society better", said Iftekhar Rasul Alvi BSc student in electrical engineering, speaking on behalf of the new students. The newcomer explained that he chose BME because of its rich history and the value of the diplomas obtained here. He quoted Lao Tzu to inspire his fellow first-year students: "the journey of a thousand miles begins with one step".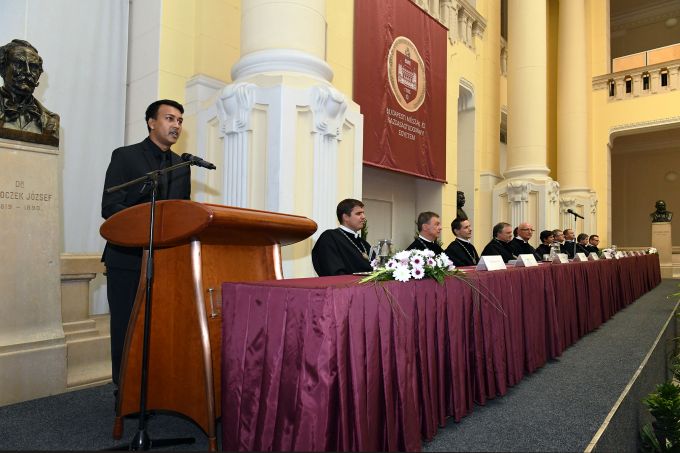 Solemn Declaration
"I ................ a student of the Budapest University of Technology and Economics, a foreign citizen residing in Hungary solemnly declare that I shall observe the statutory provisions obligatory for foreign citizens in Hungary and the relevant statues of this University. I shall always display respect for the University, its academic and administrative staff, as well as my fellow students. I understand and accept the principles and ethical standards governing the conduct of individuals and community life at this University and in Hungary. I shall refrain from participating in or organizing any activity, which would disturb the normal functioning and academic atmosphere of this University. I shall do my best to complete my studies to the best of my ability, to deepen my knowledge in the achievements of progressive science and to become an expert in my profession."
Following the ceremonial oath taken by the new students, Liridona Mehmeti, first-year BSc chemical technology student, addressed the participants. In her welcome speech she explained that she had chosen BME after careful consideration: she attended a lecture on Hungarian higher education institutions and on learning about the opportunities at BME decided that this was the place where she wanted to study. She thanked all the mentors for helping to solve her personal problems.
István Bartók, Vice-Dean of the Faculty of Architecture, talked about the life and work of Charles Polónyi when presenting the "In Memoriam Charles Polónyi Foundation" award.
The award was established by the faculty in 2004 to highlight the importance of the foreign-language architecture programme. Awardees receive a scholarship which is equivalent to their tuition fees.
The award was presented at the opening ceremony for international students by Anikó Polónyi, widow of the one-time BME professor Károly Polónyi. This year the award went to the same students as last year: Liu Qinya from China and Khadra Ghaleb from Lebanon, both studying architecture.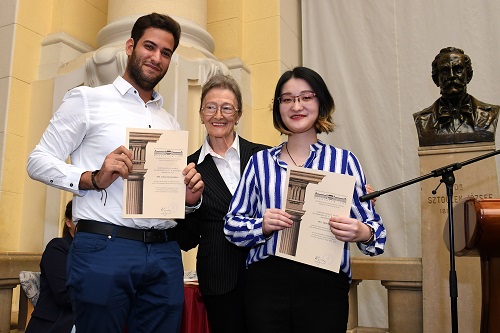 "The works of Károly Polónyi not only improved the everyday lives of people living in the buildings designed by him, but also greatly contributed to educating future generations of engineers, both from Hungary and abroad, to help them grow professionally", the Lebanese master's student emphasised, adding that this scholarship had a valuable role in the successful pursuit of his studies.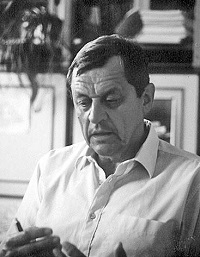 Károly Polónyi (1928-2002) Ybl Award winning architect, a graduate of BME, was the lead architect of IPARTERV. He was involved in the regional planning of the Balaton region and acted as head of the Department for Urban Planning and Architecture of Budapest. As an expert on urban planning he worked on major projects in Ghana, Nigeria, Algeria and Ethiopia for some 20 years from the early 1960s. He built Kumasi Technological University in Ghana, and started the faculty of architecture at the institution. He carried out urban planning for the city of Calabar, Nigeria, and development planning for Addis Ababa, the capital of Ethiopia. Károly Polónyi was a visiting professor at several renowned universities abroad, and the sole Hungarian member of Team X, bringing together modernist architects. In 1980 he founded BME's English-language programme in architecture, where he worked as a professor until 1998. He was the defining figure of the diverse professional, public, pedagogical, and diplomatic activities through which the university established its extensive international relations.
"Moving to another country not only brings its challenges, but also some risks, opportunities and enjoyable experiences, as you will find out for yourselves", György Horváth, presiding chair of the ceremony pointed out, adding that it is also important to be familiar with and respect the local rules. He continued: this lifelong decision could bring some difficulties also, but the university provides all the help and assistance necessary to overcome them. "Remember to look up at the stars and not down at your feet. Never give up work. Work gives you meaning and purpose and life is empty without it. If you are lucky enough to find love, remember it is rare and don't throw it away", the presiding chair of the ceremony said quoting Stephen Hawking.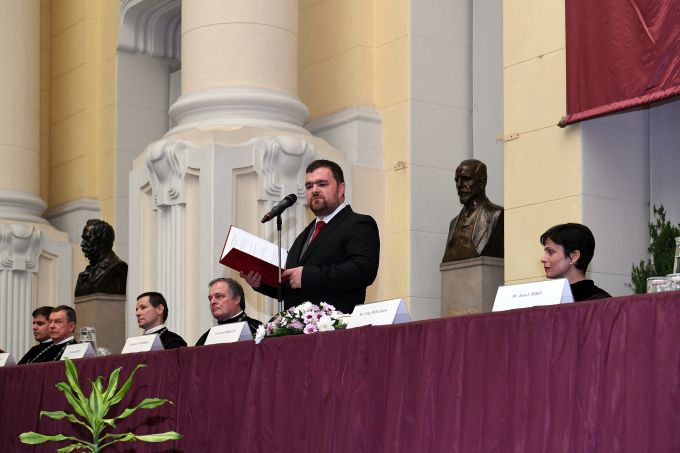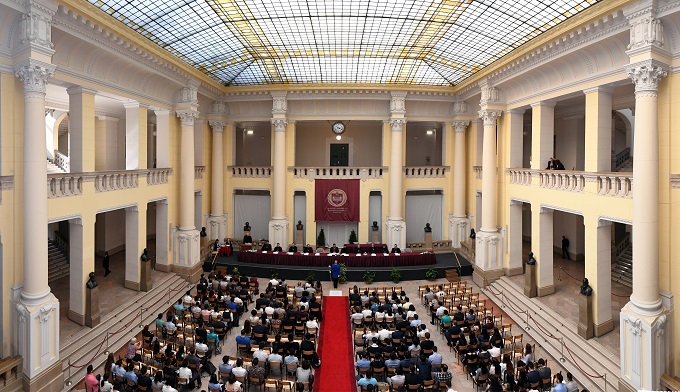 HA-GI
Photo: János Philip