BME's foreign students from 15 countries showcased the colourful culture of their homelands, giving an insight into their history and folk traditions in front of 400 guests.
 "I see a lot of familiar faces in the room, but it is also nice to see so many visitors from outside of BME". This is how Professor Krisztina László started her welcome speech at the International Carnival, organised for the second time in the ceremony hall and the corridors of Building K. After a brief introduction of the university's history the rector's advisor added: "over the years we have welcomed over a thousand young people from more than seventy countries. It is also nice to see the growing number of students studying at BME within the Stipendium Hungaricum scholarship programme and also to have more and more EU students choose our internationally recognised academic programmes".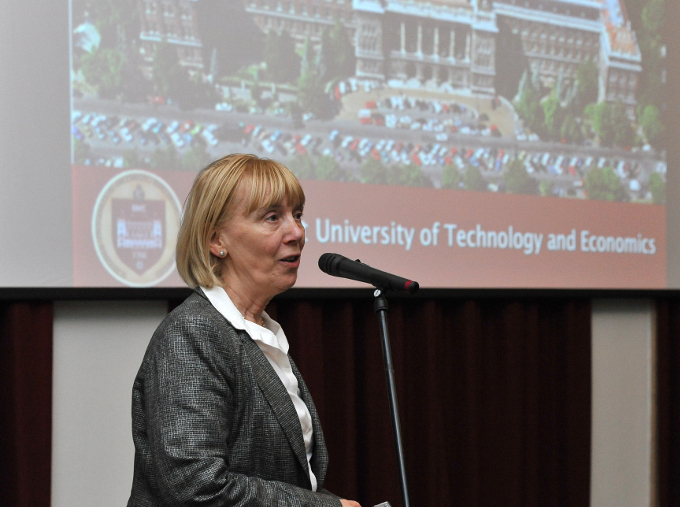 BME has offered BSc, MSc and PhD full time degrees in English from the beginning of  the '80s. Throughout the years more than five thousand students have completed their degrees and over three thousand spent one or two semesters at the university on various mobility programmes offering courses in foreign languages.
This semester, 1538 students are participating in the English language programmes, including the Erasmus and self-financing students, from 75 countries, who are here for one or two semesters. Around 600 of them are self-financing and over 630 participate in the Stipendium Hungaricum scholarship programme. We also have close to 300 students in the Erasmus Programme. The countries boasting the most students with 100 each are China and Turkey, with almost 80 students arriving from Iran and Syria, but many also apply from Nigeria, Mongolia and Kazakhstan.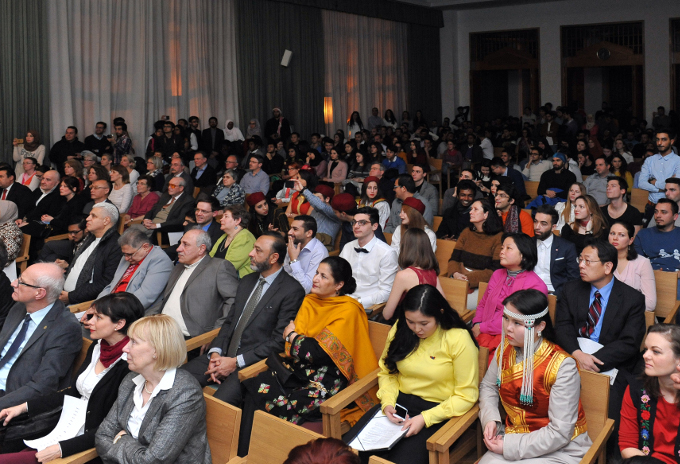 "I like to see a man proud of the place in which he lives. I like to see a man live so that his place will be proud of him.", former US president Abraham Lincoln's words were quoted by György Horváth, assistant lecturer of the Department of Environmental Economics at the Faculty of Economics and Social Sciences, who was the moderator and one of the organisers of the evening. He stressed: the BME event, held for the second time, provides an excellent opportunity for our international students to showcase their countries from the best possible perspective.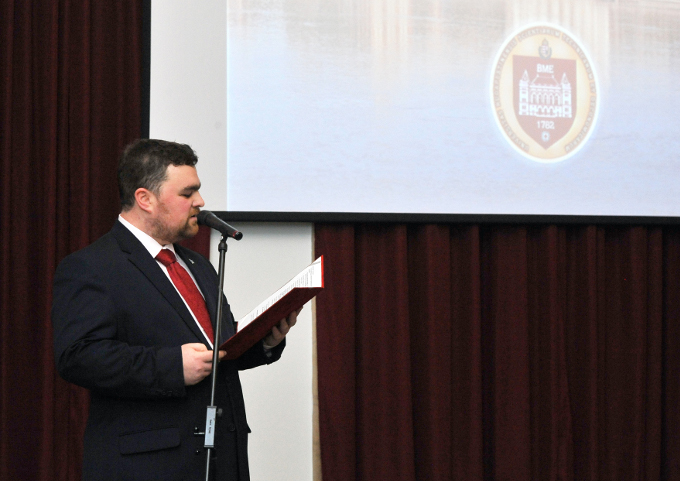 György Horváth's assistant was Anna Veres from the English language section of the Centre of Modern Languages. Environmental engineering student Nikolett Selmeczi-Kovács (Faculty of Chemical Technology and Biotechnology) and mechanical engineering student Botond Szőke (Faculty of Mechanical Engineering) were responsible for the technical arrangements of the presentations, films and the accompanying music, while international business economics students Iván Vatev and Zoltán Sebődi (Faculty of Economics and Social Sciences) participated in the organisation of the event. They are all part of the mentoring network supporting BME's international students.
"Foreign students arriving in Hungary feel very lonely in the beginning, because they have had to say goodbye to their homeland and family. They have to make decisions and start a new life in another continent and cultural environment on their own. These are hard times for any young person, wherever he or she comes from", coordinator for international affairs Valéria Balogh, who worked very hard in organising the festival for the second time, addressed the guests. "International students at BME have only one thing in common initially: they all want to study here", she added. Representing the Department of International Relations (Rector's Office) she gave a short presentation on the series of events that led to the International Carnival: the Hungarian days, held at the university every year, which provide an opportunity for foreign students to get to know Hungary's history, folk traditions, dances and cuisine, as well as the organised trips (e.g. to the Parliament, the Opera, Fertőd, Pannonhalma, Jósvafő, Eger, Pécs, Hortobágy, Zsámbék and Lake Balaton or even to Vienna.)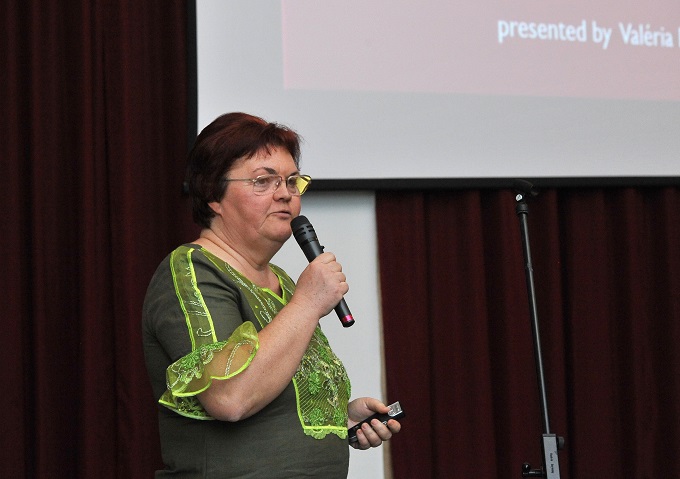 We would like to provide a home from home for every international student at BME, where they can find friends and new acquaintances, the festival's main organiser emphasised. In her opinion: "apart from the differences, young people are able to notice a lot of similarities in each other, so they can change, adopt new habits and integrate. They can not only utilise what they have learnt in their respective professions, but also build bridges between each other and their countries". Valéria Balogh thanked BME's leadership for the opportunity to organise such a large-scale cultural event, attended by around 400 visitors: "the students truly felt that they mattered to the university". She also expressed her gratitude to the embassies for their moral and financial support: for hiring a rehearsal room and providing information materials for the participants. She stressed: "these students can be very proud of being able to represent their countries at the event. They can be our most credible messengers, proving that the young people of this community, all the various nationalities, can help each other in such a natural way.
Budapest University of Technology and Economics was represented at the event by Rector János Józsa, Professor and Rector's Advisor Krisztina László, Vice-Rector for Education Károly Veszprémi, Vice-Chancellor for Student Services Virág Mészáros, as well as several lecturers. The organisation of the carnival was supported by the embassies of the countries involved; Second Counsellor at the Embassy of Iran Zabihollah Naderi and his wife Mansoureh Naderi, Ambassador of Mongolia Zeneemyadar Batbayar, Ambassador of Pakistan Iftekhar Aziz, Ambassador of Tunisia Samia Ilhem Ammar and Consul of Tunisia Mohamed Ali Ben Habib, First Counsellor of the Embassy of Algeria Ali Achoui, Counsellor of the Embassy of Azerbaijan Emil Rahimov, Assistant at the Embassy of Georgia Nana Khurtsilava, Second Secretary of the Embassy of India Satish Kumar Khanna, Secretary for Press and Cultural Affairs of the Embassy of Indonesia Titania Arimbi, Head of the Education Section of the Embassy of China Wu Hua and Counsellor of the Embassy of Palestine Elian Keswani honoured the event with their presence.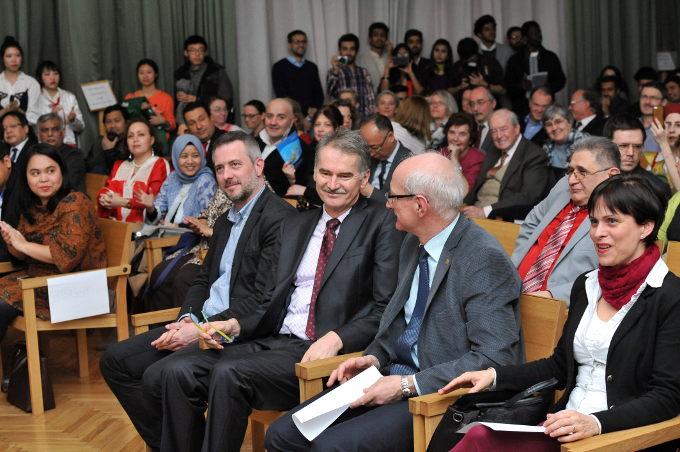 Visitors to the festival could meet students representing fifteen countries (Algeria, Ghana, Georgia, Indonesia, Jordan, Kenya, China, Mexico, Mongolia, Namibia, Russia, Pakistan, Palestine, Syria and Tunisia). The primary goal of the event was to enable students coming from a variety of colourful backgrounds to showcase their culture for fellow students from different cultures – through pictures, traditional clothes, objects or artefacts. Students also gave short presentations, followed by musical, dance or literary performances.
The guests were welcome again to sample the culinary adventures at the buffet in the lobby. They had the opportunity to taste dishes like Algerian couscous, Chinese Peking duck, Georgian wine, Indonesian sweet delicacies, Hungarian beef stew, stuffed cabbage and doughnuts.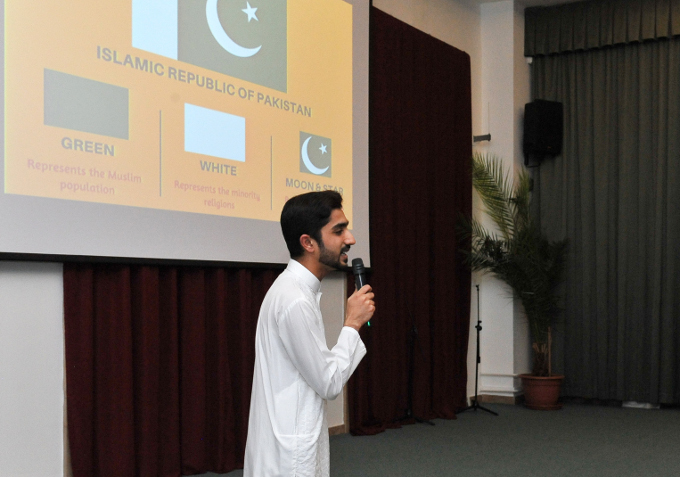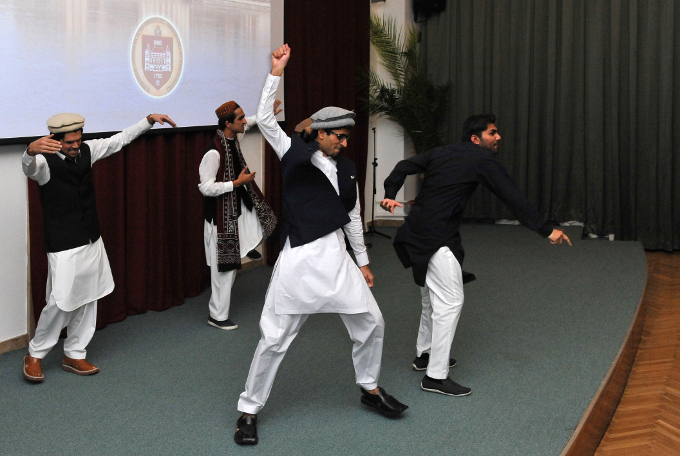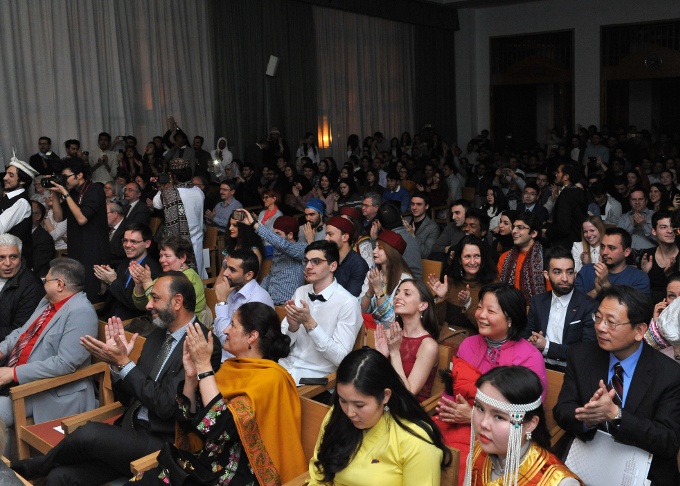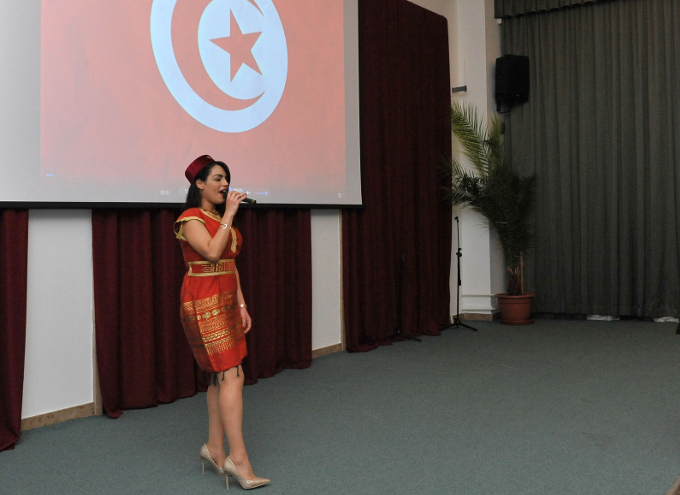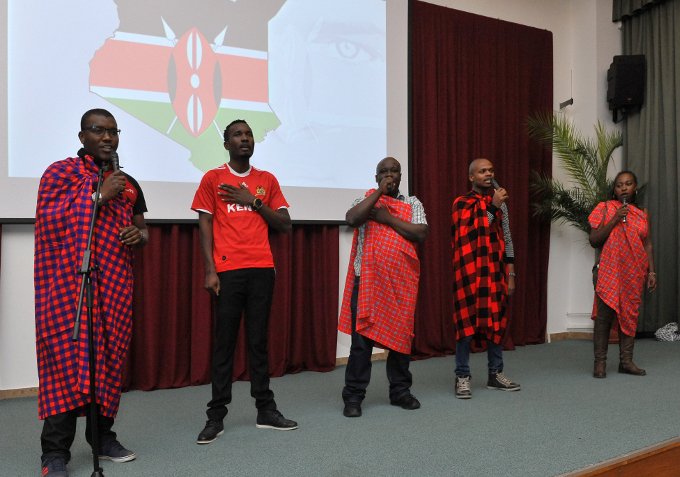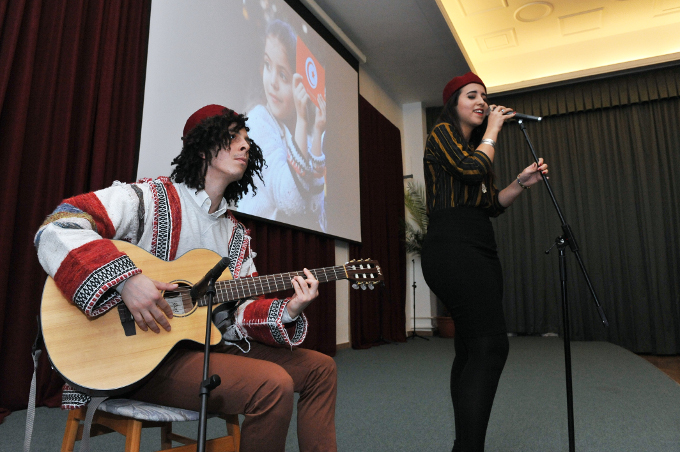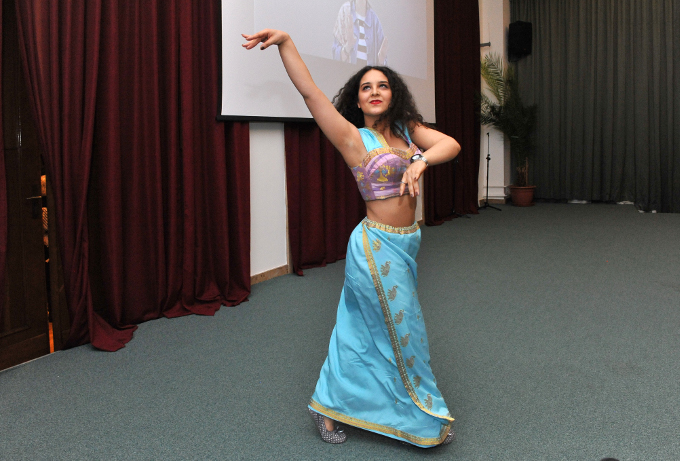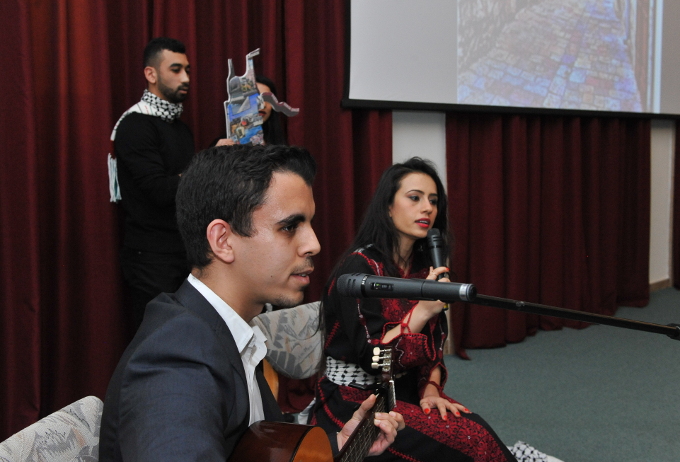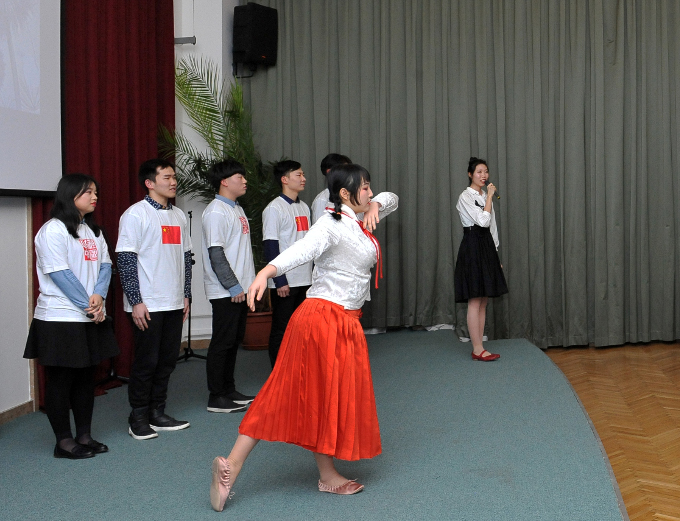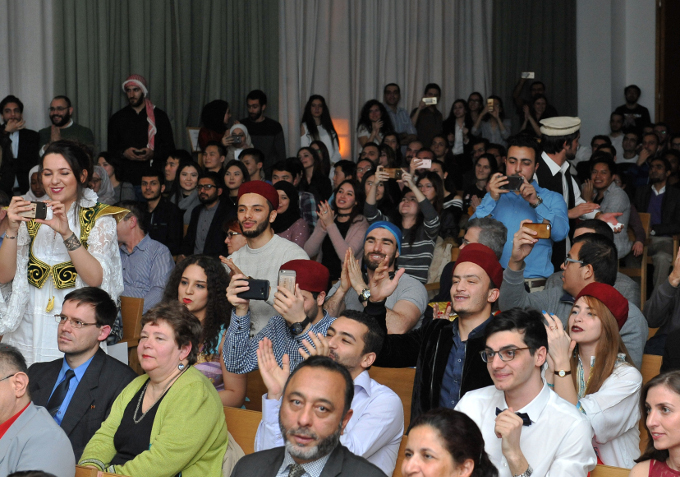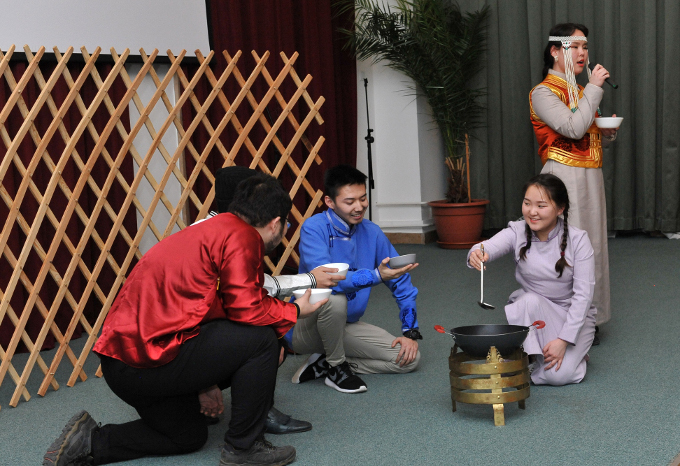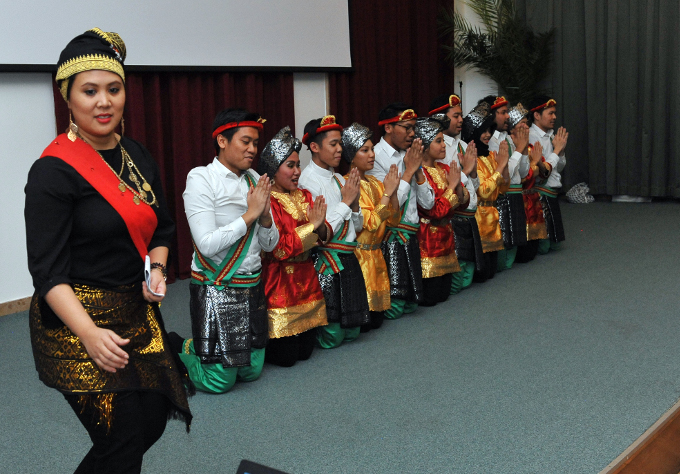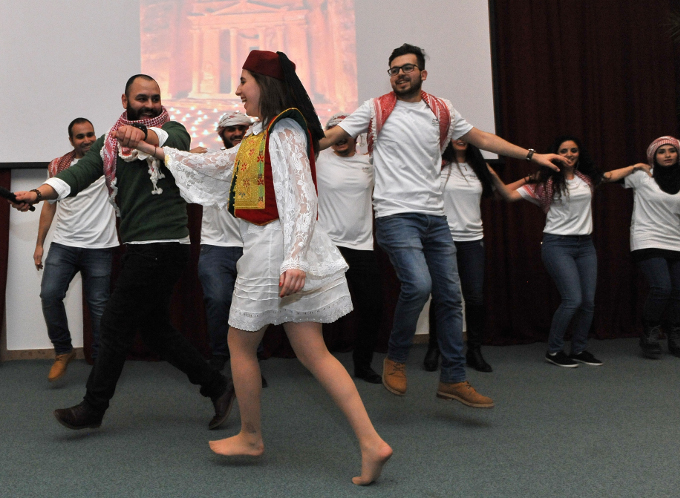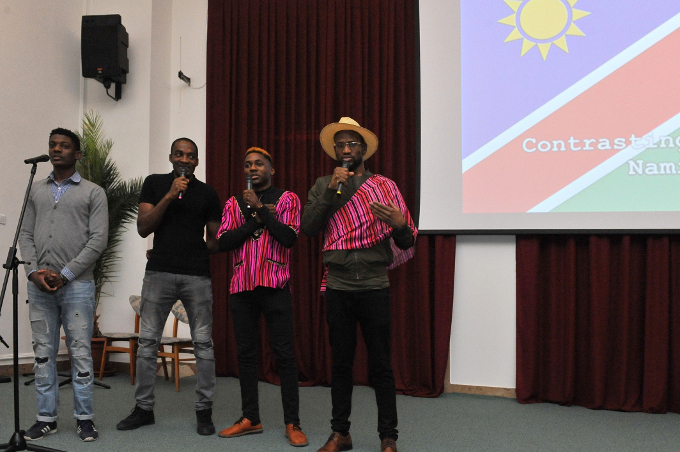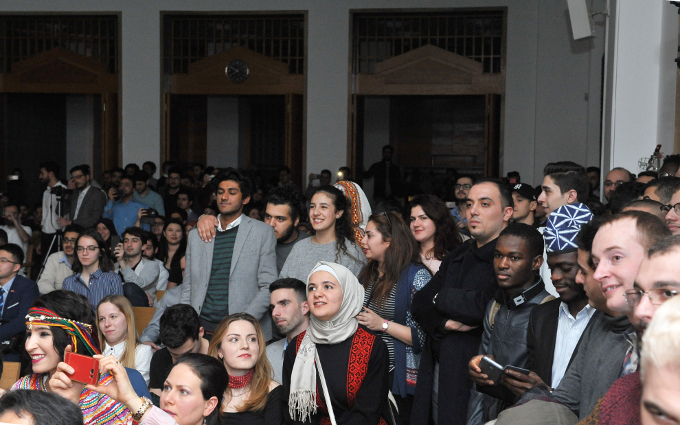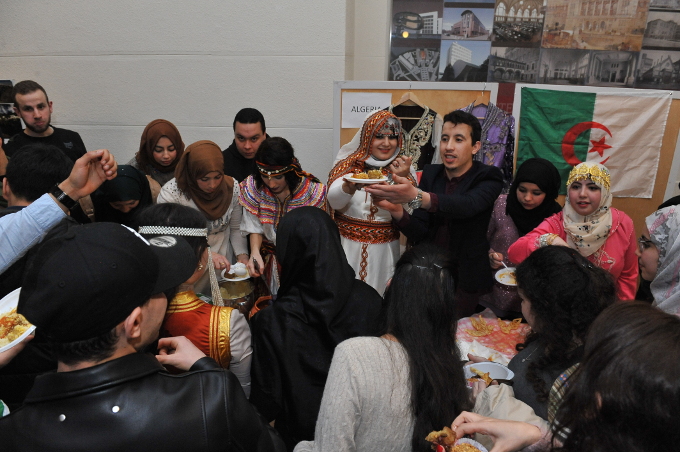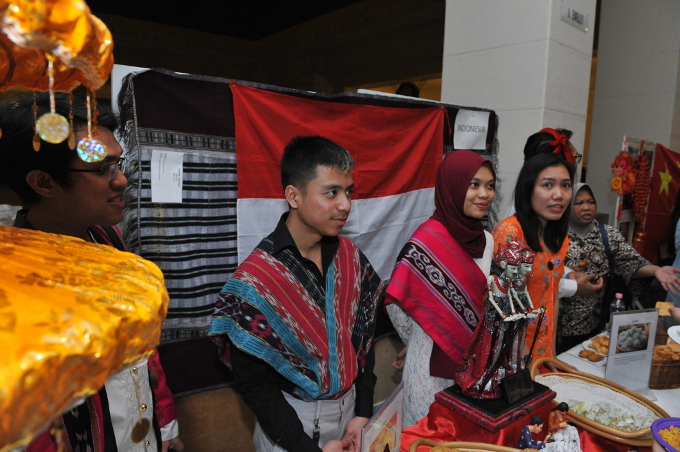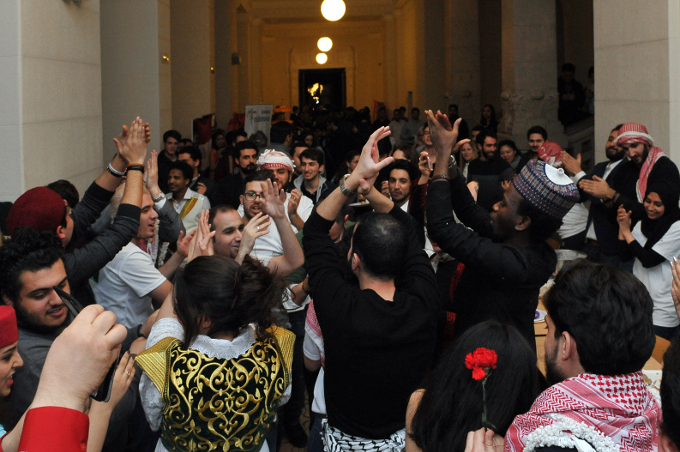 HA - GI
Photo: János Philip