"Four faculties of our University have taken part in the assessment process and data supply for the university ranking system funded by the European Union.
"U-Multirank (UMR) is a university ranking system financed by the European Union; its specialty is that it does not have a preference to any aspect and it does not set up a real ranking," said Ádám Kovács, Vice-Dean for Scientific and International Affairs of the Faculty of Mechanical Engineering. Assessment is based on indicators calculated from data provided by the higher education institutions, results of student questionnaires, publication values and the number of patent registrations," he added.
Developers of the system call it multidimensional because besides research, teaching and learning qualities (number of students and professors, educational levels, course languages), international orientation, knowledge transfer and regional engagement are also taken into account. UMR does not define uniform measurement values that ranking would be based on but rather creates lists for each assessment category, which shows the individual institution's performance on a scale of 10 points in comparison with other universities.
In the pilot project in 2013 199 higher educational institutions were involved – including BME – where BSc and higher level of training is provided. In the following year further 887 institutions provided the required data and therefore in the 2015 results 1210 institutions from over 800 countries are listed – explained Ádám Kovács. (The 11 universities from Hungary are BME, ELTE, University of Szeged, University of Debrecen, Semmelweis University, University of Pécs, Corvinus University of Budapest, University of Óbuda, Central-European University, Budapest Business School and Andrássy Gyula University.)
In 2014 U-Multirank made specific research in certain fields of study, namely electrical engineering, mechanical engineering, business studies and physics. For the 2015 edition three new subject fields (psychology, computer science, and medicine) were added and the faculties and programmes for these specific fields are highlighted in the UMR system. The results were published on the www.umultirank.org website in May 2014 and in March 2015 further values were added. In 2016 other fields of study will be included in the subject-specific assessment (biology, chemistry, mathematics, history, sociology and social work) and as a result more faculties and training programmes of BME will be included in the system," emphasized the Vice-Dean for Scientific and International Affairs of the Faculty of Mechanical Engineering.
Ádám Kovács explained that assessment compares the performances of higher education institutions in the five broad dimensions of university activity: teaching and learning, research, knowledge transfer, international orientation and regional engagement. U-Multirank does not give preference to any aspects and the evaluation does not have a uniform method in these categories (it can be from 1 to 100 and from 1 to 6). In the latter case it follows the German system, where 1 is the highest and 6 is the lowest mark. As U-Multirank does not produce a combined, weighted score across these different areas of performance it cannot be used to make a general list or overall scoring of universities. On the other hand the system allows compiling ranking for a specific aspect and institutions can be compared by various parameters (size, fields of study, regional engagament, levels of training, etc.) as well.
"It may be interesting to compare Hungarian institutions and other Central European Universities that are about the same size as BME and have similar financing form and level of education," explained the Vice-Dean of the Faculty of Mechanical Engineering. Ádám Kovács illustrated the results of Hungarian institutions with two charts (with the assistance of Dávid Barton from BME OMIKK). In the listing we have to choose a reference institution that we want to compare with others; this is why in the chart this reference university is BME. Those other institutions are listed that have higher scores (these are the so-called 'Top scores' which is similar to the system of top results) in the given category.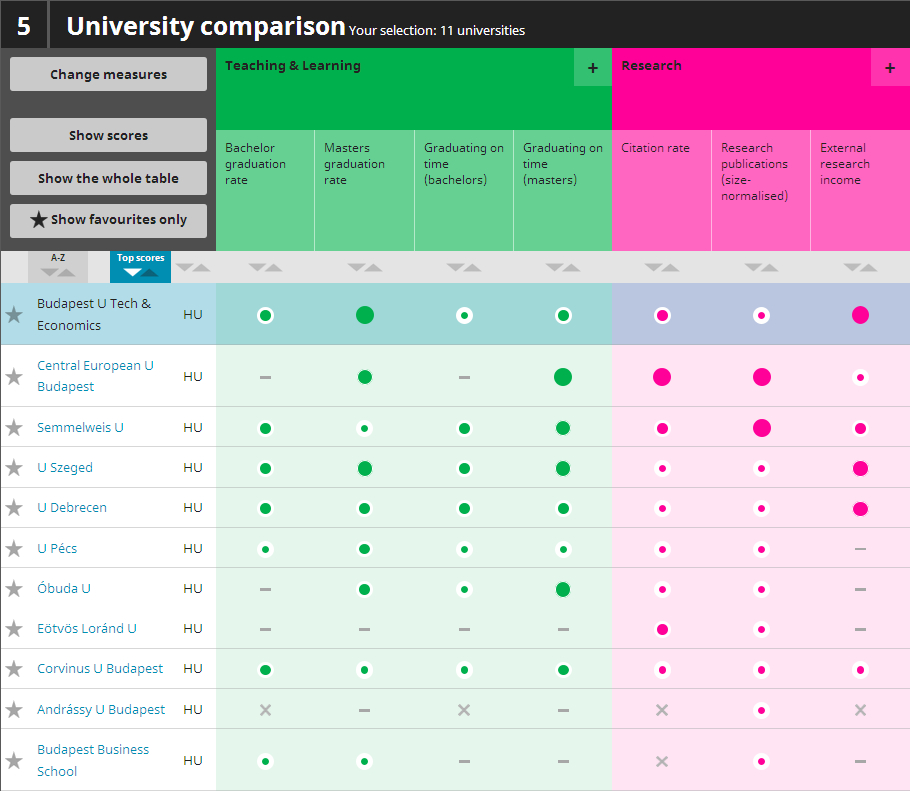 Chart 1: Hungarian higher education institutions (teaching and learning, research)
"In teaching, learning and research categories among the 11 institutions involved from Hungary BME is on the 2-3rd position according to the results of the ranking," said Ádám Kovács and also added that it may make comparison difficult that certain data are missing from the assessment (f.e. in Chart 1 from ELTE regarding teaching).
"In the other three categories (knowledge transfer, international orientation and regional engagement) BME is again in the 2nd-3rd position among the 11 institutions from Hungary (Chart 2.). It is absolutely clear that in no categories would BME be behind Hungarian research universities," emphasized Ádám Kovács.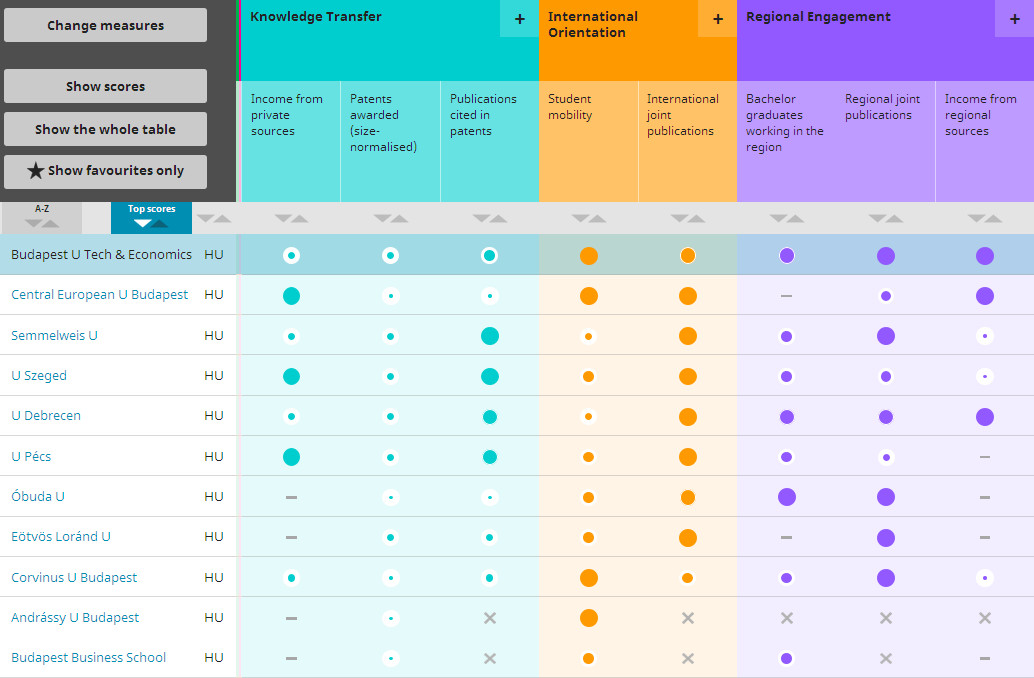 Chart 2: Hungarian higher education institutions (knowledge transfer, international orientation and regional engagement)
"When comparing Central-European (from Austria, the Czech Republic, Croatia, Poland, Romania, Serbia, Slovakia, Slovenia and Ukraine) non-private universities that provide training programmes on all the three levels (BSc, MSc, PhD) non-relevant assessment aspects should not be considered when making the ranking," explained Ádám Kovács. Such aspects can be the ratio of students graduating in time as it is more important if students finish university at all; the ratio of outer investment in research programmes as it does not entirely depend on the university; the ratio of artistic performance, the number of post-doc positions and the number of interdisciplinary publications. In the knowledge transfer category the significant aspects are the ratio of publications with partners from the industry, the number of patents registered (although BME is not outstanding in this) and the ratio of publications related to patents. Within international orientation we consider the number of foreign language programmes and mobility more important than the number of foreign professors and PhD students and regional engagement we do not find an important element at all." The top results of the listing for 105 institutions can be seen in Chart 3.
Chart 3: Listing of Central European Universities
"In this ranking BME is in the excellent 9th position and is the 3rd among technical universities marked with asterisk" highlighted Ádám Kovács. "Only the Technical University of Vienna (No. 1) and Czech Technical University in Prague (No. 6) have higher scores, while there are other institutions in the first 50 with prestigious technical faculties like the University of Graz (No. 11), University of Linz (No. 12), Technical University of Harkov (No. 13), Technical University of Krakow (No. 23), Technical University of Bratislava (No. 35), Technical University of Košice (No. 40), Technical University of Warsaw (No. 41) and Odessa National Polytechnic University  (No. 45)," summarized the Vice-dean.
In the latest ranking of Quacquarelli Symonds (QS) eight higher educational institution of Hungary, including BME have been included in the thematic listings.
BME in computer sciences and informatics is between the 201st and 250th, in energetic and electrical engineering between the 251st and 300the, and in mechanical engineering between the 201st and 300th positions. BME's programme in mathematics is between the 201st and 250th positions, while in the field of chemistry is between the 251st and 300th ranks. In physics and astronomy BME is listed in the 301st-400th positions.
The British company uses academic assessment, evaluation of stakeholders from the industry and also number and citation of scientific publications to prepare their rankings.
Sources: Eduline
-BK-
Photos: www.umultirank.org