ESA's funding of €65,000 will be spent on the development of space technology that can be exploited in everyday life.
The technology transfer network of the European Space Agency (ESA) works all across Europe to develop new space technologies that can be exploited in other non-space sectors and in all walks of life. Last December, ESA's Technology Transfer Broker Network set up an office in Hungary, paving the way for a technology transfer between Hungary and ESA –the largest space organisation in Europe – and its suppliers. In Hungary, the Wigner Research Centre for Physics has been selected to serve as the national technology transfer point.
The task of ESA's Hungarian technology transfer point is to disseminate knowledge about space technologies and identify how other sectors e.g. the economy, industry or other non-space fields could best benefit from such technologies. ESA's Technology Transfer Programme Office has established initiatives for space technologies to be identified and adapted for non-space use that result in commercially viable products and high potential companies.
To receive funding for technology transfer projects, Hungary had an opportunity to apply to ESA in the framework of the "Technology Transfer Demonstrator Competition 2017-2019", in brief, the Demonstration Call. Here they were expecting the candidates to apply with a solution that relies on transfer space technology and utilises it to improve a product or a specific service that could be used in daily living. The Call was open until 6 July 2017 to all citizens, residents with a permanent working permit and Legal Entities within Hungary. ESA's Tender Evaluation Board (TEB) has selected two winning bids:
One of the winning projects was a "Mobile 5G wave propagation tester system", a current development of the Department of  Broadband Info-communications and Electromagnetic Theory at VIK, BME. This state-of-the-art 5G communications technology will make high quality services available in the future allowing higher capacity than current 4G, and a higher density of mobile broadband users via innovative technologies. The outcome of the demo programme is expected to be a portable indoor 5G tester system that could be of key importance for engineers measuring wave propagation. With the advance of 5G technology, such tester equipment could have a widespread use; the device developed for space purposes can be used in non-space scenarios as well.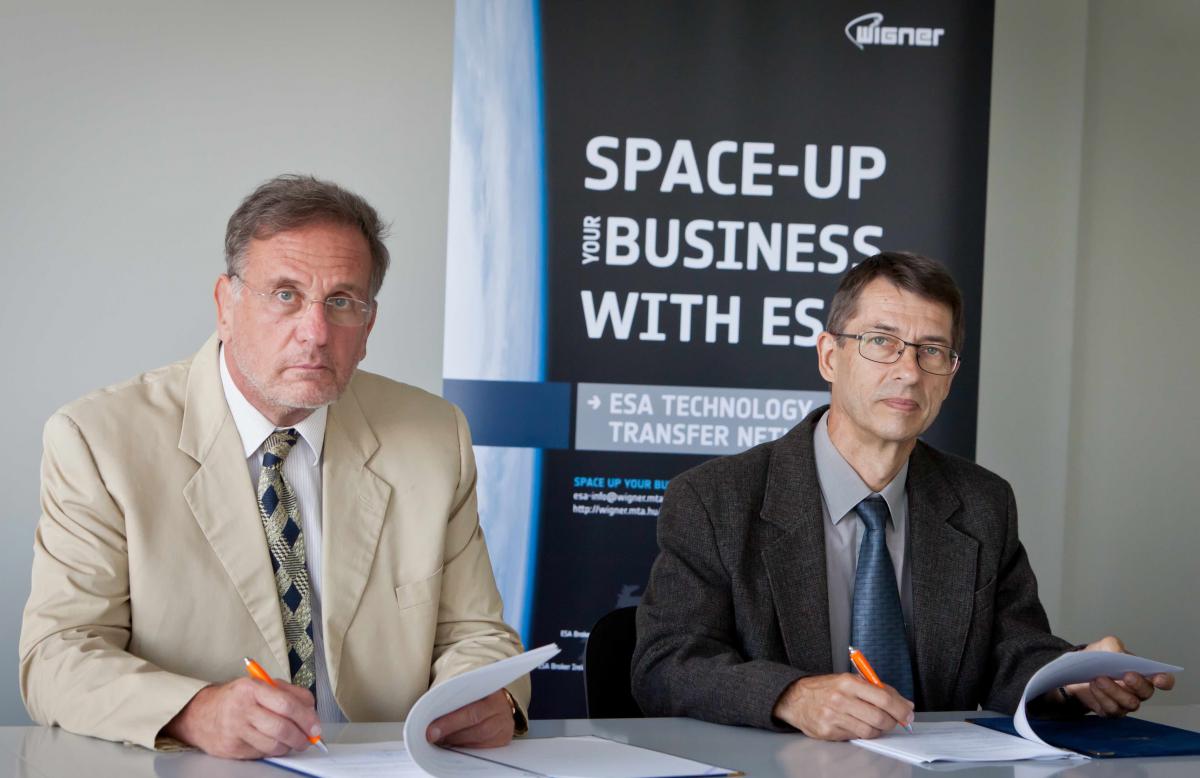 Our photo shows Pál Vadász and László Csurgai-Horváth (BME) representing each of two winning projects
The other project receiving ESA funding was entitled "Satellite image process UPon rEquest from Reports on Border security", SUPERB for short, being developed by Montana Tudásmenedzsment Kft. with support from the Department of Border Policing at the National University of Public Service and the scientific board of the National Police Headquarters (ORFK). 
During the project, multimedia data, textual, audio and visual information will be gathered and compared – via artificial intelligence – with data registered in the police archives and with news items and information made public in different media sources. Based on the results, they will attempt to locate the geographic position of the events and compare them with satellite views, and analyse results together with surveillance data using the method of "SIMILAR IMAGING".
The next call available through of ESA's Hungarian technology transfer point is expected to be issued in November. For further details visit the website of the Wigner Research Centre for Physics.
Source: BME VIK
Photo: Hungarian Academy of Sciences Wigner Drupal All Colors of Physics