This year also saw the arrival of a large number of foreign students, with 800 beginning their studies at BME, and including, for the first time, the Faculty of Economics and Social Sciences.
"Wherever you come from, embarking on your university studies, far from your family and the environment your are used to, is full of challenges", said Vice-Rector for Education Károly Veszprémi when addressing the audience at the opening ceremony of BME's English-language academic programmes. He added that the students probably have different kinds of expectations about the next period of their lives and that the university would assist them in expanding their knowledge and making the most of their talents.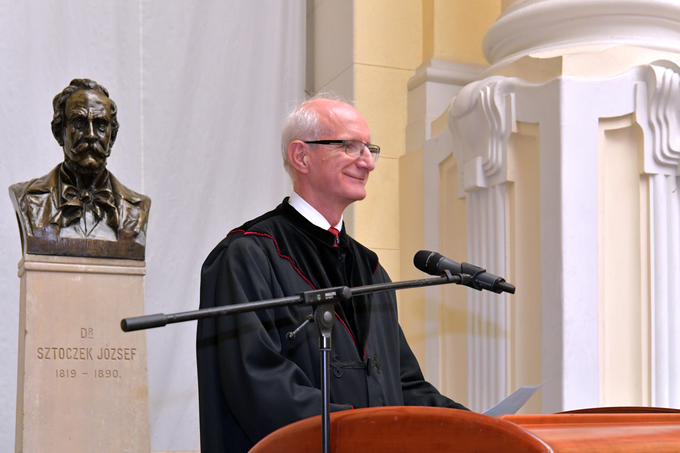 The professor announced that this year, for the first time, foreign students can start their studies at the Faculty of Economics and Social Sciences. "Our aim is to offer internationally recognised, high-quality education: BME-graduate Nobel laureates are a testament to the success of our work", he stressed, continuing that the road to becoming an engineer holds many challenges, but at the end of it there is the opportunity to obtain a diploma that is widely recognised, also by the labour market: compared to the unskilled workforce, graduates can contribute to the growth of the national economy to a larger degree. The Vice-Rector's final message to the students was a quote from György Oláh, the world-famous scientist: "you have to work on tomorrow's solutions today".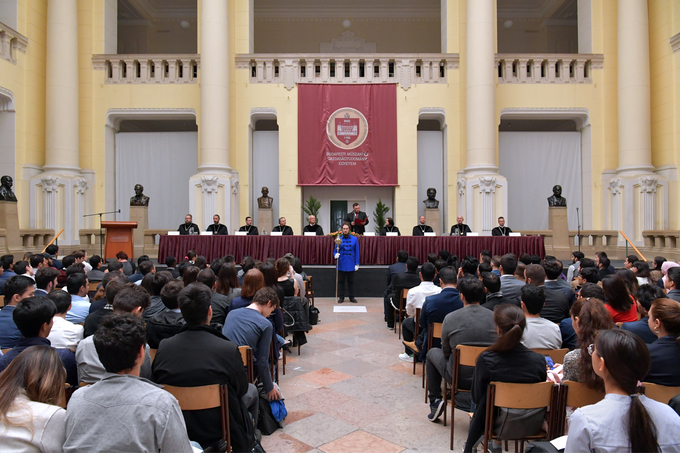 Members of the Academic Procession arriving to the tune of Gaudeamus Igitur Vice-Rector for Education Károly Veszprémi, Vice-Dean for Finance Attila Joó (Faculty of Civil Engineering), Vice-Dean for Scientific and International Affairs Csaba Hős (Faculty of Mechanical Engineering), Vice-Dean for International Education István Bartók (Faculty of Architecture), associate professor Zoltán Hell (Faculty of Chemical Technology and Biotechnology), associate professor Eszter Udvary Gerhát (Faculty of Electrical Engineering and Informatics), Vice-Dean for Scientific and International Affairs Ádám Török (Faculty of Transportation Engineering and Vehicle Engineering), Dean Miklós Horváth (Faculty of Natural Sciences) and Vice-Dean for Scientific and International Affairs Gyula Zilahy (Faculty of Economics and Social Sciences).
The master of ceremonies was György Ádám Horváth, assistant professor at the Department of Environmental Economics at BME's Faculty of Economics and Social Sciences.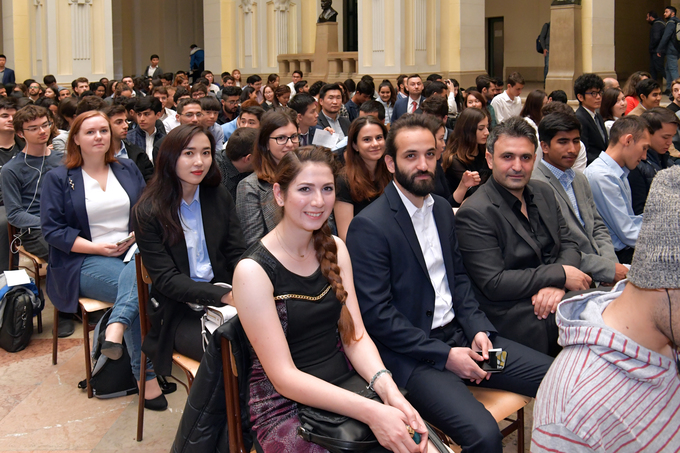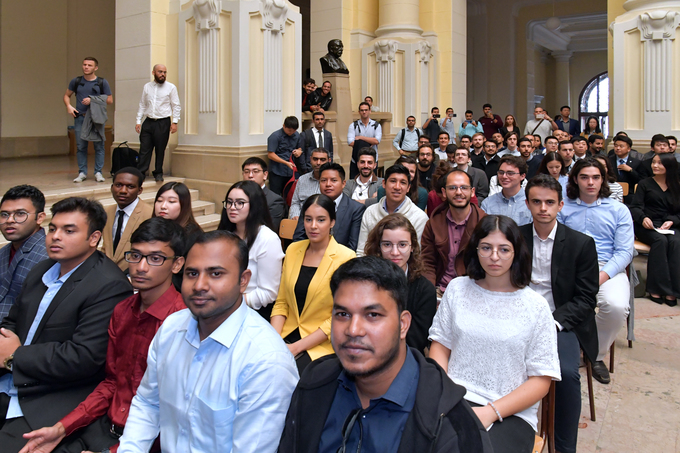 "BME is committed to offering the maximum in education and research", emphasised Máté Igaz, who welcomed the students on behalf of the mentor team, adding that the institution offers much more than just education: it is a community centre for leisure activities, entertainment and sports, where students can acquire new skills and make new friends. "It is up to you to make the most of these opportunities", stressed the head of the International Mentor Team.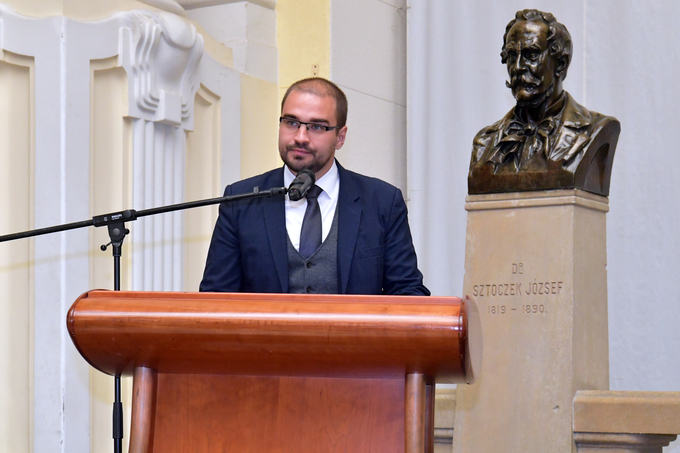 "If students are prepared, have the love and support of their families and friends, they will succeed and will never be left alone on their journey", said Dang Tran Bao Trinh, an MSc student in chemistry from Vietnam, who welcomed the first-year students on behalf of their peers already studying here. She added that it was very special to stand on the podium for the second time, since earlier this year she spoke at the diploma awards ceremony representing the new graduates after completing her BSc studies at BME in January with the help of the Stipendium Hungaricum Scholarship Programme. After graduating she worked in the profession in Saigon for 6 months: having gained these experiences, she now has a clearer picture about what she wants to specialise in, so she was happy to return and continue her studies at BME.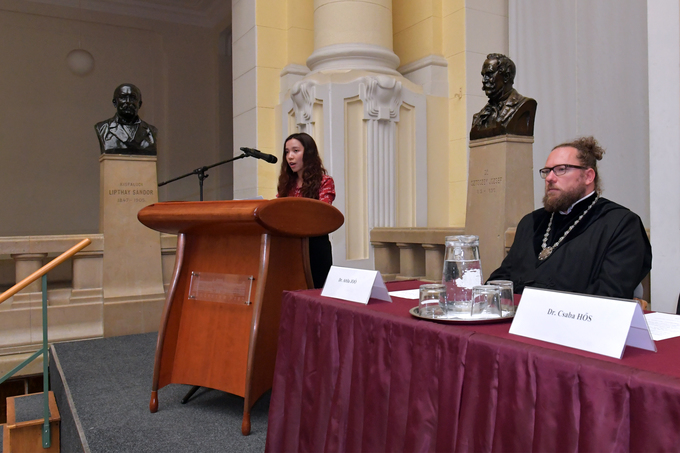 "I spent ten months in Hungary as an exchange student during secondary school and promised my "adoptive parents" here that I would come back, said Oto Ido, first-year student of architecture from Japan sharing his memories when addressing the audience on behalf of the new students. He surprised everyone by reciting a few lines from a József Eötvös poem in Hungarian. He added: "I collected my memories of Hungary in a sketchbook and now I am ready to open it again; I can't wait to start my new life here". He also revealed that he had chosen to come here because of the beauty of the Hungarian landscape and the country's historical heritage.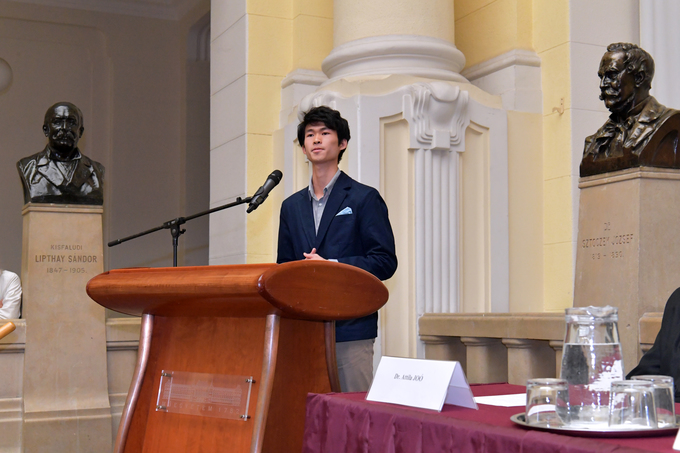 The ceremonial oath of the new students was recited by Anna Veres, language teacher from the English language section of the Centre of Modern Languages at the Faculty of Economics and Social Sciences, repeated into a microphone by first-year mechanical engineering student Yang Tz-Ting, thereby encouraging his peers.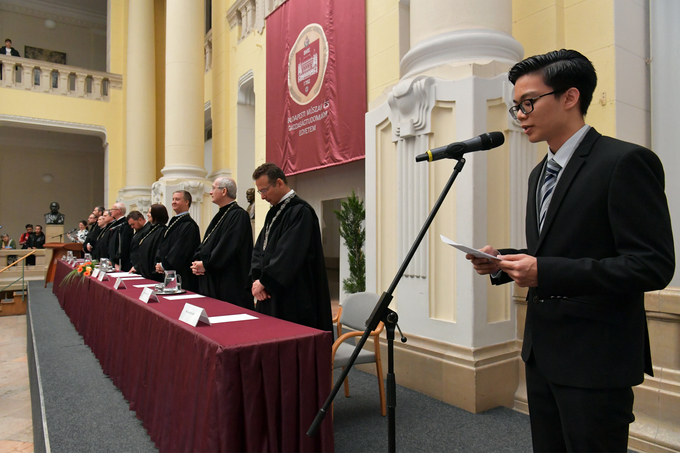 Ceremonial Oath

"I ................ a student of Budapest University of Technology and Economics, a foreign citizen residing in Hungary solemnly declare that I shall observe the statutory provisions obligatory for foreign citizens in Hungary and the relevant statutes of this University. I shall always show respect for the University, its academic and administrative staff, as well as my fellow students. I understand and accept the principles and ethical standards governing the conduct of individuals and community life at this University and in Hungary. I shall refrain from participating in or organising any activity, which would disturb the normal functioning and academic atmosphere of this University. I shall do my best to complete my studies to the best of my ability, to deepen my knowledge of modern scientific achievements and to become an expert in my profession."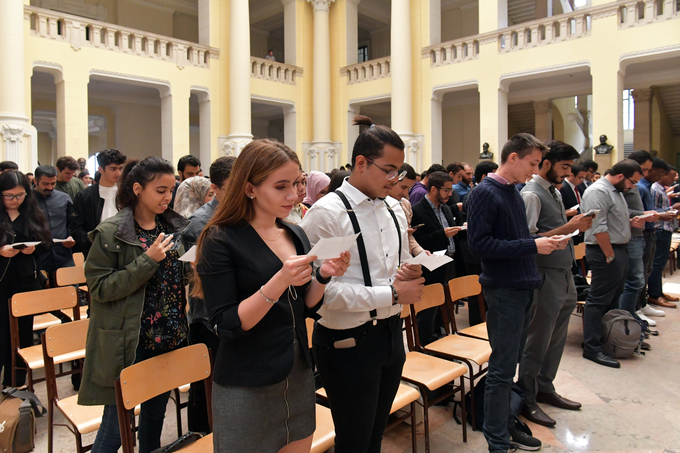 After the oath Amgalantuul Purevsuren, first-year civil engineering BSC student from Mongolia addressed the audience. Growing up in Ulaanbaatar, she always wanted to study abroad and was attracted to civil engineering, but she realised that she could not fulfil her dream without a scholarship. When she heard about the Stipendium Hungaricum Scholarship Programme, she knew what to do. "I stopped worrying about which university to choose. The diverse cultural background of BME's international students, the university's rich history, its labs, English-language courses, as well as its excellent professors devoted to their students proved to be a perfect choice", she explained.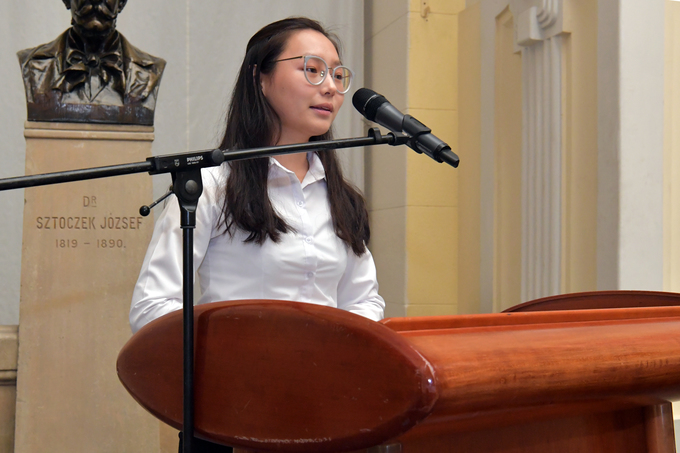 "Moving to another country is not only a risk or an opportunity, but also a fantastic feeling and a lot of joy, which you will experience here first hand", stressed György Ádám Horváth. "Remember to look up at the stars and not down at your feet. Never give up work. Work gives you meaning and purpose and life is empty without it. If you are lucky enough to find love, remember it is rare and don't throw it away", the presiding chair of the ceremony said, quoting Stephen Hawking.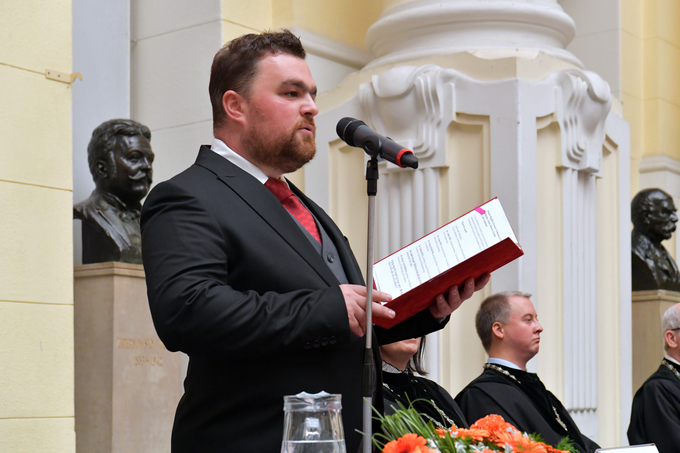 "It is not easy to select new students every year, who would address the audience of the opening ceremony, since they come from different cultures, education systems, with different expectations", revealed Valéria Balogh from the Department of International Relations at the Rector's Office to bme.hu about the preparations. She went on to explain that usually there is a long correspondence with the candidates, who bombard her with questions about the academic programmes and the admission process. "If they see that I approach them with a genuine curiosity, I almost always succeed in finding the right people, especially when I rely on my past experiences as a lecturer. This way I learn something special and personal about them, while also having an insight into interesting moments from their lives. This year four students from four Asian countries, starting their studies at four different faculties were given the opportunity to speak at the ceremony. The two young ladies and two gentlemen will embark on self-financed or scholarship programmes. All of them respect BME's history and are happy to study in our institution. When they look forward to the next few years with such enthusiasm and determination, I am sure that they will overcome all the obstacles coming their way", she added.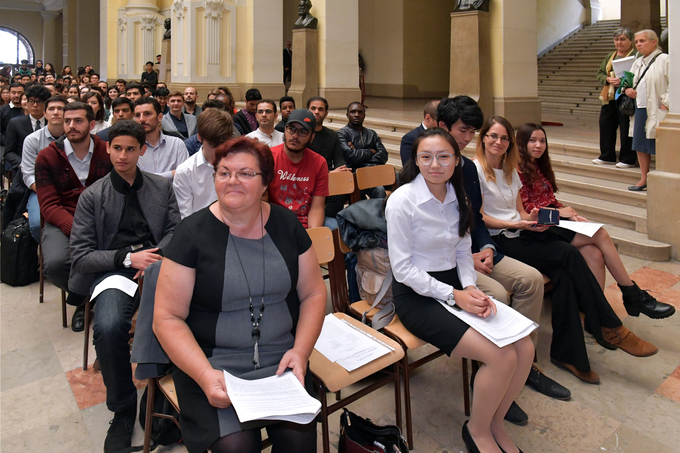 Around 800 foreign students from fifty countries have enrolled in the programmes of the 2019/2020 academic year at BME, which is more than last year. Most of them come from Azerbaijan, Brazil, Kazakhstan, China, Mongolia, Pakistan and Tunisia. Close to 240 students participate in fee-paying programmes, the rest receive the extremely popular Stipendium Hungaricum scholarship. All of them applied online, the majority for bachelor training programmes, and around 180 for MSc or PhD programmes.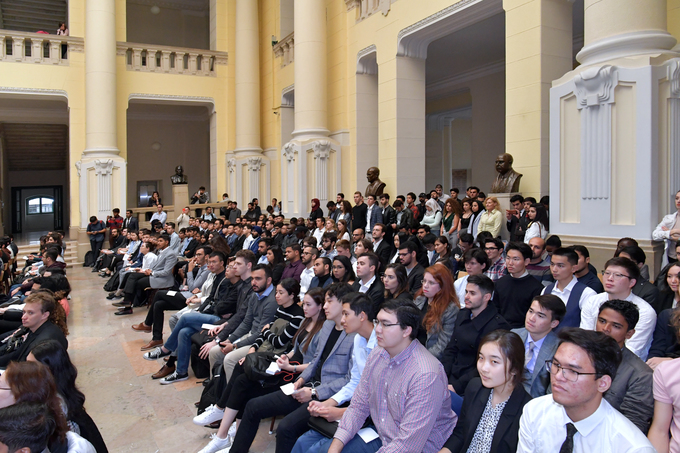 HA-GI
Photo: János Philip