The HUNOR - Hungarian Astronaut Programme begins the two-year training of Hungary's newly established career astronaut team consisting of one doctor and three engineers.
Hungary's astronaut candidates were introduced in a press conference. The four selected candidates are: Gyula Cserényi, a 33-year-old electrical engineer, Tibor Kapu, a 31-year-old space industry development engineer, Ádám Schlégl, a clinical orthopedic surgeon and András Szakály, a 40-year-old aerospace design engineer All of these candidates with the exception of Ádám Schlégl are BME graduates.
A key message of the opening speech delivered by Orsolya Ferencz, ministerial commissioner for space research, at the event was that Hungary is returning to space. Based on the important catalyst effect the spaceflight of Bertalan Farkas, attending the event as a guest, in 1980 had on Hungary's science and research activities, the main objective of the new astronaut programme to stimulate long and steady growth and development in Hungary's science and high-tech industry is a well-grounded ambition, Orsolya Ferencz said summarising the long term goals of the programme.
 
Miklós Maróth, president of the Eötvös Loránd Research Network (ELKH) informed that the Space Research Laboratory of the ELKH Centre for Energy Research, Hungary's leading space research and space technology laboratory, was selected by the government to coordinate, implement and manage this complex programme.
Gábor Magyari, the astronaut selection and training manager of the HUNOR programme said that the four candidates introduced were selected from the 240 valid applications received based on criteria defined by the European Space Agency, NASA, the International Space Station and the programme's private industry partner, Axiom Space. The nearly one-year-long selection process included tests on the intellectual performance, physical strength, character stability, the scientific work quality of the contestants and checked whether they are able to work together in a team and lead as well when required, Gábor Magyari explained.
Gyula Cserényi, 33, an electrical engineer, studied at BME's Faculty of Electrical Engineering and Informatics and then worked for Robert Bosch managing the operation of the high voltage power network of the company's industrial facility.  His most favourite sport in the last few years has been obstacle course racing. 

Tibor Kapu, 31, a development engineer, graduated from BME as a mechanical engineer, he was employed in the pharmaceutical industry then worked with the batteries of hybrid vehicles and later on radiation protection developments for astronauts. As a parachutist, he has had 38 jumps so far.
András Szakály, 40, an aerospace design engineer, graduated from BME's Faculty of Transportation Engineering and Vehicle Engineering and then worked for various aircraft industry giants and also at small, emerging companies from Austria to Great Britain. His most recent job was in Munich in charge of a 120-strong engineering team that designed a prototype for an electric aircraft.

The HUNOR Hungarian Astronaut Programme aims to obtain access for a Hungarian research astronaut at the International Space Station foreseeably in late 2024 or early 2025 where he will conduct scientific experiments developed mainly by Hungarian scientists and will be able to perform research work on the International Space Station for almost a month.
BME was the first to launch a master training programme in space engineer in Hungary in September 2022.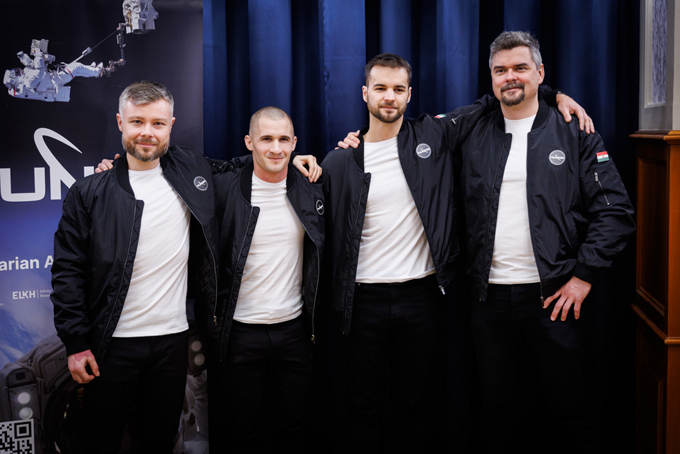 source: MTI/index.hu
photo: Kata NÉMETH/Index