The agreement between BME and the German higher education institution allows for double degrees to be awarded to students in electrical engineering programmes. The first year of the programme started last autumn with 25 students.
"BME already had ties with the predecessor of the Karlsruhe Institute of Technology as early as the 1980s. We visited Karlsruhe several times a year," said László Palkovics, minister for innovation and technology who studied at BME at the time, at the signing ceremony of the cooperation agreement on double degrees made with the Karlsruhe Institute of Technology in Germany (formerly University of Karlsruhe, KIT), ranked in the top 100 universities of the world, adding that later they adopted a number of excellent technologies in Germany and worked together on many projects including the development of self-driving cars and tyres. The minister said that he had had relations with Germany since he started university. "Wherever the German industry goes, education and research institutions follow," Mr. Palkovics concluded by quoting Günther Oettinger, EU commissioner from Germany.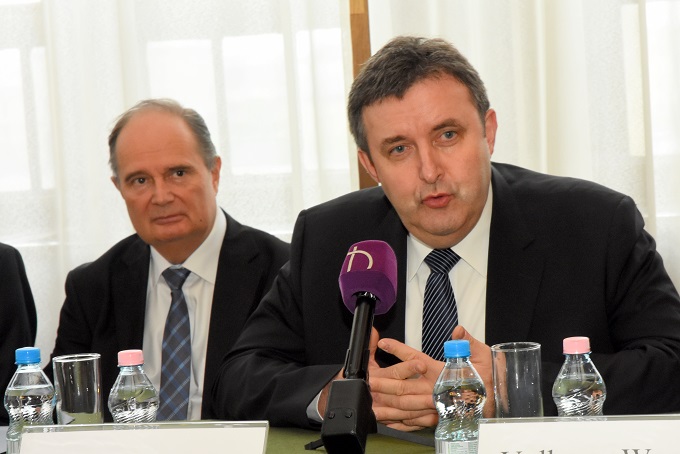 "This is what happens when high quality institutions partner with each other," stressed Károly Veszprémi, vice-rector for education on behalf of the host, in his welcome speech. He reminded the audience that cooperation has particularly long traditions – both in education and research – in the field of electrical engineering "but we now open a new chapter" as BME's Faculty of Electrical Engineering and Informatics now offers bachelor programmes awarding double degrees. "We are pleased that we were successful because, while the agreement was easy, there were a number of issues related to the coordination of the study programme we had to tackle," explained the professor who will encourage other courses to also introduce this system.
"50 years ago, in 1970, BME and KIT's predecessor started an intensive and fruitful collaboration, which has now reached another milestone," Thomas Hirth, KIT's vice-president for innovation and international affairs said, remembering the beginnings and adding that the two institutions dedicated an enormous amount of time and energy to promoting their academic and scientific relations. He said that guest students have been involved in joint projects since 1984 but the two universities are now focused on awarding a double degree. With its foreign students currently exceeding 20% of the total student population, this training programme type is fully in line with KIT's international strategy. The joint programme with BME is promoted by not only the available new digital tools but also by a recent, very successful workshop, the professor added and then highlighted the importance of intensive partnerships in the future in the field of research.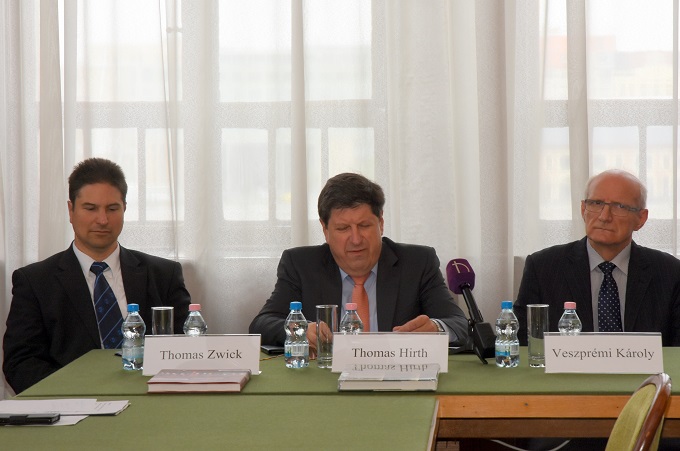 BME and KIT have offered a joint German-language engineering programme since 1992, which means that the courses for students admitted to the Faculty of Mechanical Engineering or Electrical Engineering and Informatics with the required language skills and commitment, were in German in the first four semesters followed by a semester in Karlsruhe. The diplomas these students received contained an additional sheet on their German-language studies. (Editor note: over 2200 students were admitted to this course between 1992 and 2018.)
As a result of the new agreement signed at BME, students majoring in electrical engineering who began their studies in the German-language programme at the Faculty of Electrical Engineering and Informatics (VIK) in September 2018 will receive a diploma from both universities at the end of their training.
The agreement was signed by Attila Kotán, chancellor, Károly Veszprémi, vice-rector for education and László Jakab, VIK's dean on behalf of BME and Thomas Hirth and Thomas Zwick, the programme manager of the electrical engineering programme representing KIT.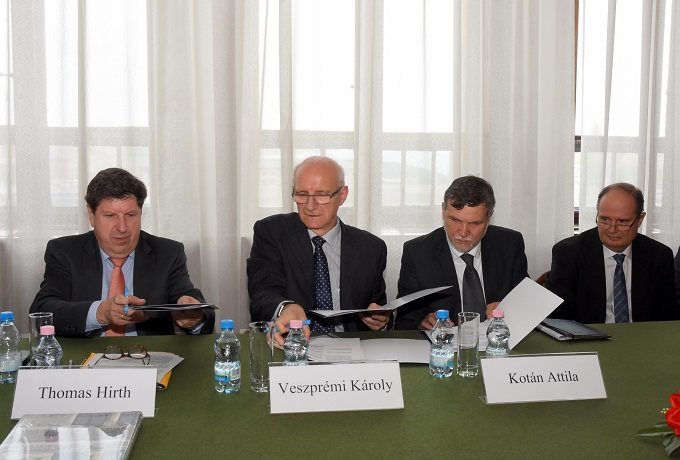 Special guests attending the ceremony and delivering a short welcome speech included Volkmar Wenzel, Germany's ambassador to Hungary, Dale A. Martin, chairman of the German-Hungarian Chamber of Industry and Commerce, László Ludvig, director of Siemens Mobility as well as current and former university and faculty staff engaged in the planning and execution of the agreement.
Students in the electrical engineering programme who began their studies in September 2018 read all of their subjects in German in the first two semesters of their BSc programme and are also required to take all tests and exams in German. They then spend the third and the fourth semester in Karlsruhe, receiving a scholarship as KIT's students and study based on the sample curriculum of KIT's electrical engineering programme for two semesters. As the subjects completed in Germany are fully compatible with the subjects in the sample curriculum of BME's electrical engineering programme, they will be directly recognised in their domestic studies after they return. They complete their fifth and sixth (specialisation) semesters in Hungary again, in Hungarian and are allowed to write their theses in their last semester connected to both universities. Their theses will be assessed and evaluated by both universities and their final examination will be jointly supervised. At the end of their undergraduate programme, students fulfilling all requirements receive a BSc diploma from both universities.
KIT's students may also be awarded the double degree of the two universities by studying at BME between semester 4 and 6 and then being allowed to choose where they want to write their theses in the 7th semester.
The programme is planned to be potentially introduced in other majors such as the undergraduate courses in computer engineering and mechanical engineering. For more information on double degrees, please visit VIK's website or write to pro2@mail.bme.hu.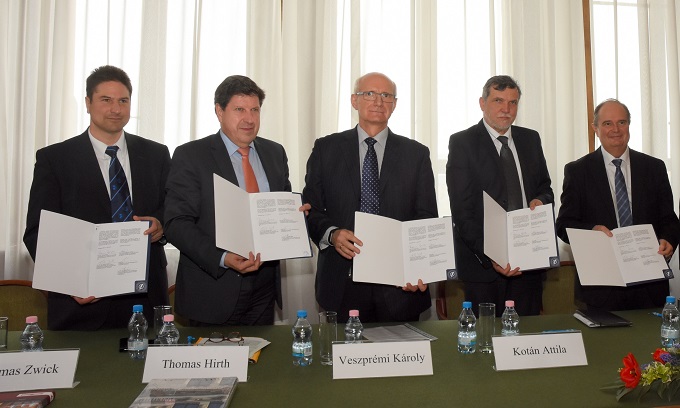 HA-GI
Photo: Ildikó Takács