Budapest University of Technology and Economics is also among the 10 universities from 7 European countries, who take part in EELISA, which won a 5 million euro support for joint trainings.
The European Commission chose 24 from the 62 alliances of 500 applicant universities, which won support according to the  announcements of results on  9th July 2020.
The European Engineering Learning Innovation & Science Alliance (EELISA), – which was established with the participation of BME – is one of the winners of the Erasmus+ European Universities consortia. The long-term target of EELISA is to create a European Engineering Degree system. The cooperation marked two main areas in their application: to share their experience in education and potential projects linked to industry and research (Industry 4.0), as well as Green, Smart and Resilient Cities. BME intends to contribute to both national and international quality improvement of the technical higher education in the framework of the European Universities consortium – emphasized János Józsa, Rector of  BME.
Ministerial reception to Rectors in EELISA launching meeting in Madrid
The European Commission acknowledged the aspiration of the joint European Engineering Degree. The proposal has a very significant level of ambition, as it aims to transform the European engineering education by offering a common European engineering educational model that would allow students to obtain a recognised European degree developed at several locations. The proposed new model will go beyond a traditional dual degree scheme. In order to strengthen and expand cooperation in education, the alliance will use different mechanisms, such as the creation of a joint campus, a joint catalogue of activities and issuing joint diplomas and degrees. The establishment of the EELISA communities will permit further incorporation of research and innovation in education.
The European Commission has supported more associations, which focus on engineering sciences. One of them is EELISA, combining also individually strong, dignified engineering higher education partners. The European Engineering Learning Innovation & Science Alliance (EELISA) combines technical universities, comprehensive universities with  management focus, French universities (grandes écoles) specializing in engineering, full-spectrum universities and comprehensive higher education institutions from seven European countries, representing more than 170,000 students. The coordinator of EELISA is Universidad Politécnica de Madrid.  Members are Budapest  University of Technology and Economics (Hungary), Universitatea Politehnica din București (Romania), İstanbul Teknik Üniversitesi (Turkey), Friedrich-Alexander-Universität Erlangen-Nürnberg (Germany) -, École des Ponts ParisTech (France), Chimie ParisTech PSL and Mines ParisTech PSL (both affiliated to Université Paris Sciences et Lettres, France), Scuola Sant'Anna (Italy) and Scuola Normale Superiore (Italy) joined their forces to create EELISA, together with the European Network for Accreditation of Engineering Education (ENAEE) as an associate partner. The ENAEE adds its experiences of engineering education into the system.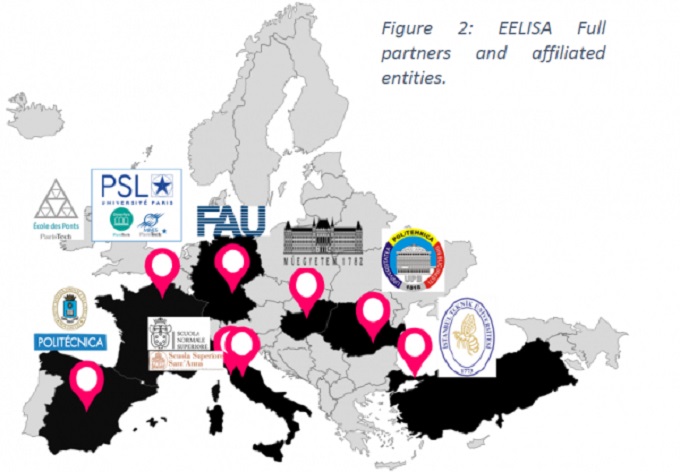 EELISA will encourage and support mobility for engineering students as well as academic and administrative staff. Initially focusing on the master level, the partners will then develop their cooperation at bachelor and PhD levels. János Józsa, rector of BME added, that Balázs Vince Nagy, vice-rector for international affairs and László Gergely Vigh, director for education in foreign languages have determining roles in the current success.
EELISA will empower its students' citizenship participation and improve their employability, aligning the universities' strategy with United Nations Sustainable Development Goals, and in doing so contribute to solve societal challenges. EELISA will be a consolidator for the progress of European Union values in general, and a major role model for higher education institutions in all sectors within the European Higher Education Area and beyond.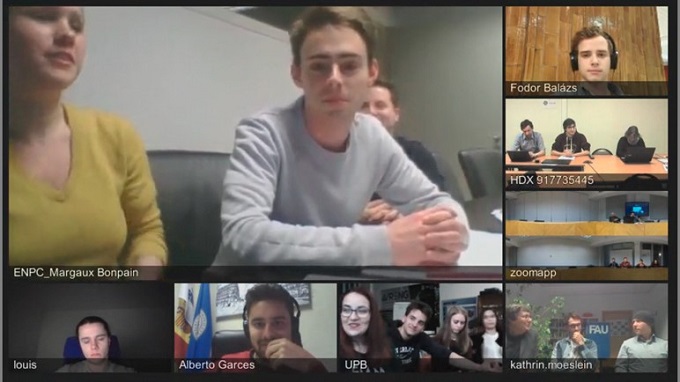 EELISA students representatives video conference
Diversity will be a key driver for EELISA. It will first support social inclusion by supporting the implementation of part-time study (apprenticeship) in engineering curricula all over Europe. The collaboration is committed for the fact that men and women can start with equal chances in the profession of the natural science and the engineering with this supporting the European equal opportunities intention.
EELISA was launched on January in 2019 in a Rectors' meeting in Madrid, and it was extended on 20th January 2020 in Erlangen. BME and the association were already connected earlier as members of the ATHENS Network for two decades.