Apart from saving lives, the device, developed in record time through the cooperation of two BME faculties, can be used for other therapeutic indications.
"Professional and scientific activities, based on self-confidence, have been intensified for decades at Budapest University of Technology and Economics, allowing us to accept such challenges as the development of a ventilator. Striving for perfection is especially characteristic of the staff of the Faculty of Mechanical Engineering, who took on the lion's share of this task, as well as those of the Faculty of Electrical Engineering and Informatics", BME's Rector János Józsa emphasised in his opening speech during the unveiling of the device, adding that: the newly developed ventilator is not a simple, average device, so we are one step closer to readiness for a potential second wave of the Coronavirus pandemic. (The story of creating the prototype and the details of series production were covered in detail by bme.hu – Editor's note.)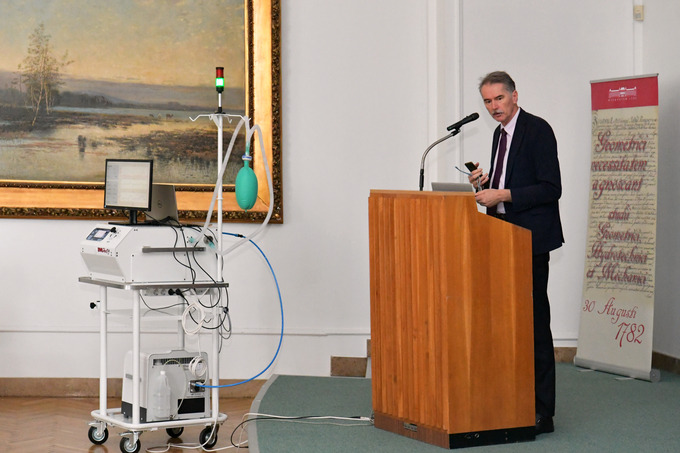 Clinical tests of the BME-developed ventilator are to start soon, Tamás Dabóczi, university professor and head of the Department of Measurement and Information Systems at the Faculty of Electrical Engineering and Informatics announced, stressing that the high-end device is to be tested under the strict supervision of clinicians at the Korányi National Institute of Pulmonology, the National Institute of Oncology and the Törökbálint Medical Centre for Pulmonary Diseases. The expert noted that within two months of receiving the request from the Minister of Internal Affairs, BME's lecturers-researchers were able to create a functioning device that rivals its counterparts available in the global market. When describing the work of the developers he explained that it required input from several specialist areas; combining the efforts of over 30 colleagues from the university's nine departments.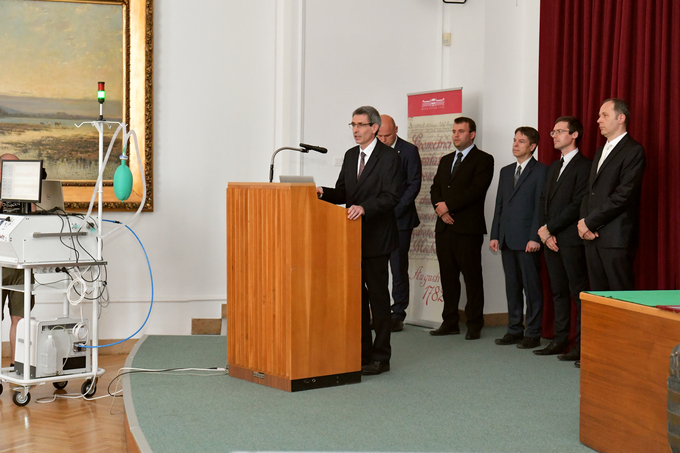 "Innovation is not a one-off event, but a process, which starts with research, followed by development, design and implementation, to be completed with sales: the added value thus generated is substantial both in terms of the corporate and national economy", János Pakucs, Chair of the Board at Pro Progressio Foundation said, adding that the Innovation Grand Prize has been awarded by the Foundation to BME's ventilator project. He stressed that this event is a celebration of the designs and the first models, created by societal need, an idea and the expertise of researchers-developers. "We rarely see a more beautiful and quicker result in an innovation process than the birth of this device." He concluded his speech by adding that the series production will be carried out by BM Heros Zrt, whose Kőbánya facility will produce 10 items a day.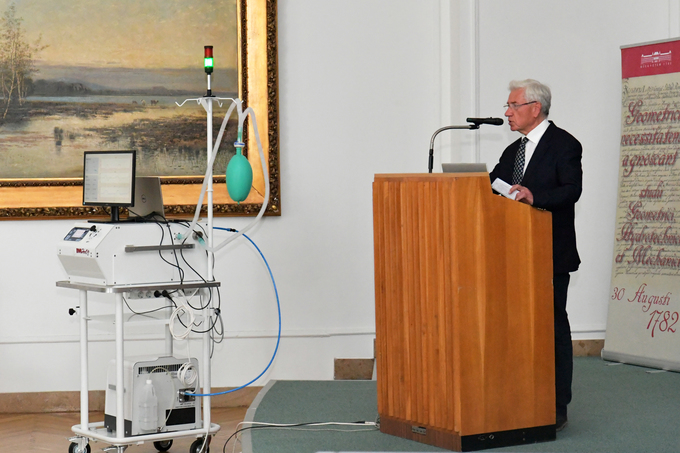 On behalf of the Faculty of Mechanical Engineering:
Assistant professor Péter Bakonyi, assistant professor István Bíró, doctoral student Róbert Boros, assistant professor Zsolt Farkas, department engineer Zsolt Hodosán, assistant professor Balázs Istók, junior research fellow Ádám Jacsó, laboratory head István Kopasz, assistant professor Krisztián Kotrocz, deputy head of department and associate professor József Gábor Kovács, assistant professor Róbert Krisch, master instructor József Molnár, assistant professor József Nyírő, deputy head of department and assistant professor János Péter Rádics, assistant professor András Suplicz, department engineer Norbert Szakály, associate professor Gábor Szebényi, doctoral student Levente Széles, assistant professor Dániel Török and doctoral student Márk Vajda
On behalf of the Faculty of Electrical Engineering and Informatics:
Head of department and university professor Tamás Dabóczi, business development director/research fellow Péter Becker, technicians Miklós Czeller and Zoltán Feil, assistant professor Ákos Horváth, head of department and university professor Bálint Kiss, associate professor Zsolt Kollár, associate professor Tamás Kovácsházy, deputy head of department and associate professor István Majzik, doctoral student Péter Nagy, junior research fellow Gábor Naszály, associate professor György Orosz, assistant lecturer Tamás Raikovich, senior lecturer Balázs Renczes, master lecturer Balázs Scherer, honorary associate professor Csaba Tóth and associate professor István Varjasi
Medical experts:
Jenő Elek, head physician, National Institute of Oncology
Ildikó Madurka, clinical head physician, National Institute of Oncology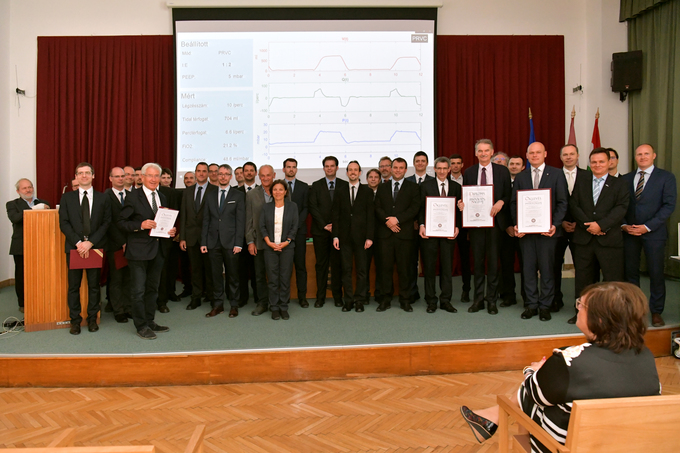 "The new device boasts very impressive technical features, symbolising the combined efforts of clinicians and engineers. It has a separate component for each stage of the ventilation process, it is capable of controlling the expiratory phase as well, and can also be used for therapeutic indications", explained head physician of the National Institute of Oncology Jenő Elek, who participated in the BME-development project as a medical expert.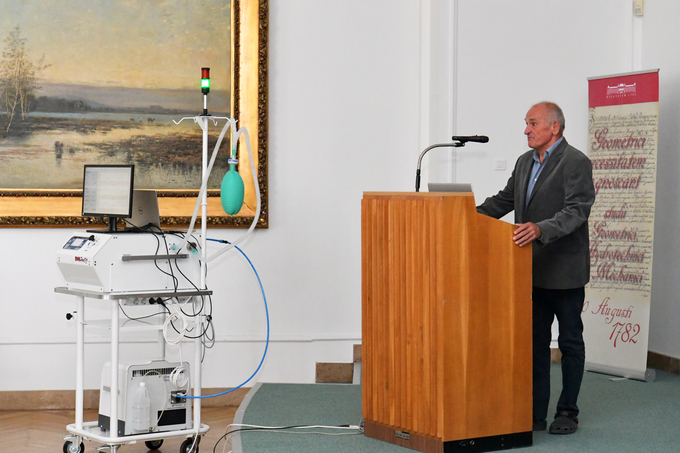 "The Ministry for Innovation and Technology supports several projects related to the coronavirus", deputy state secretary for innovation Tibor Gulyás said in his closing speech, listing the production of masks, the vaccine development project and the wastewater research programme as examples. He added: after Hungary declared a national state of emergency, we saw an unprecedented rise in professional collaboration, which proves that the "country's innovation ecosystem" is operating successfully".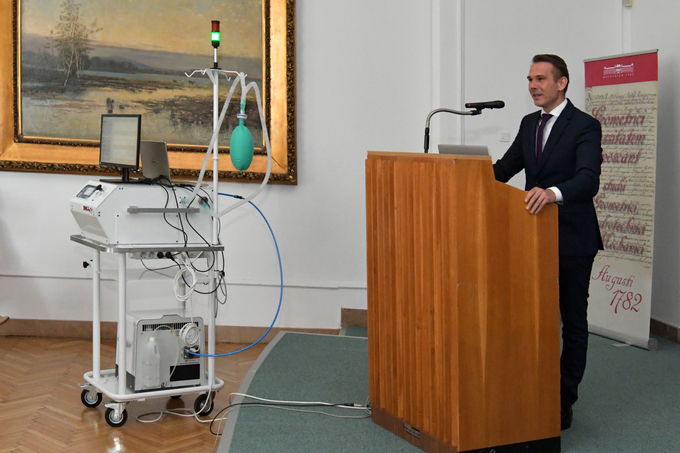 HA-GI
Photo: János Philip